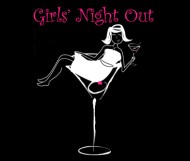 Girls' Night Resources for fantastic Mom's Night Out or a Girls' Night Out in San Jose and beyond. I was thinking about all of my friends who own businesses that are dedicated to giving us a well deserved night OFF and thought I would share all of those resources here with you! ( Please share this on Facebook and with your friends who might need some fun resources for their book club, their Mom's Club, their bunko group or their bff's.) Everyone loves a fun Girls' Night Out party!
1.  Pleasure Parties by Bliss:  I will start us off with my company, BlissConnection.  We do very educational, yet sassy pleasure parties all over the Bay Area.  Our parties are a super fun night in. You invite your girlfriends over and we bring our mobile romance store to your home. Our presentations are a giggle fest, but everyone will walk away feeling like there were in a very sexe Sex Ed class with cocktails! Call us at 408-826-9087 to book your Pleasure Party. (Blog with Bliss Naughty Cocktail Recipes  for your next Girls' Night Out or Girls' Night In.)
2. Divalicioius Productions: Jen Jaciw and her team create "Decadent Ladies Night Out events that celebrate your Inner Goddess."  Their DIVA nights are legendary here in the Bay Area. Recently I attended their "Eat, Pray, Love" Diva night. We started our evening by getting into the beautiful, luxury vehicles provided by Lone Star Limousines (Divalicious and Lone Star Limo are sister companies) and we rode in the limos to have Thai Food and then to see the movie. We even had Italian pastries in the limo with our adult beverages. 🙂  We ended up on the front page of the SJ Mercury News, too!  Cal Jen to book your limo or join one of her Diva events. Tel: 408-263-1593
3. Sedusa Studios: "Plan a Girls' Night Out You Will Never Forget."  Sedusa has a sensual / pole dancing studio here in Campbell, Walnut Creek and South San Francisco. Their studios are just stunning. I have my business office at Sedusa's Campbell studio. From my office I can look out my window down onto the beautiful cherry hardwood floors punctuated with 9 gorgeous shimmering dance poles, burgundy walls and mirrors everywhere. 
Carol and her team offer fab girls' night out parties at their pole dancing studios. You get about 10 – 12 of your friends together, bring some appetizers or some champagne and plan to have a blast. You might arrive a bit nervous, but you leave feeling beautiful and empowered.  Call Sedusa at 408-867-2224 to book your ladies night, your bachelorette party, your Mom's group or any other fun group of women and learn to give a VERY sultry, sensual dance for your paramour.
4. Wine Tastings & More: Bring the Wine Country to your home. My friend Betty Kaufman hosts Wine Tasting parties in your home. HELLO! No brainer, right. You're probably having a glass of wine right now! Maybe you're already sharing a bottle of wine with a girlfriend. Betty is like your own personal home wine steward/sommelier.
For a small fee, she brings the Wine Shop at Home sampler pack of wine to your home. You invite about 12 – 15 of your friends over and Betty takes you on a tour of wine country. She teaches you how to savor, sniff, swirl and taste the beautiful wines she brings with her. No wine snobbery is allowed at her wine parties! Betty's presentations are all about enjoying good wine with good friends.  They are a blast. Call Betty and book your Wine Tasting Party 650– 714-7009.
Do you have some other ideas for this resource page? Do you offer a service that cater's to a Girls' Night Out, then please leave your company information here in our Blog Comments section.