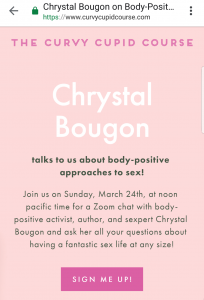 Join us on Zoom on March 24th when we talk sex! We will be discussing body-positive approaches to sex. I am a woman of size. And, I know that where there is a will, there is a way.  We will discuss confidence in the bedroom, how to tweak positions if one or both partners are higher sized humans.  We will talk about sex toys what work great for people of all sizes and cover some of my favorite sex furniture, too.
To join in the call, click here:  https://www.curvycupidcourse.com/chrystal
Don't forget to sign up so you get the ZOOM link for this on Sunday the 24th!
So grateful to the Curvy Cupid Course for inviting me to create this conversation!