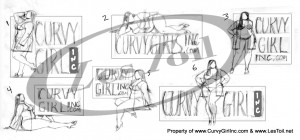 Curvy Girl Inc
Thank you so much for all of your ideas for our new Curvy Girl tag line. Big thank you to Dana, Shelley and Gina – they each won a Bliss Romance Package for their awesome tag line submissions for our Curvy Girl Lingerie store.
We are seriously considering opening a Curvy Girl Lingerie store in Willow Glen in the San Jose area and we would love your opinions on the Curvy Girl logo sketches from the amazing Les Toil – check out his other Toil Girls on his portfolio website here.
Here are the 6 options for a possible logo for our plus size lingerie store. (And, we will be carrying shoes for all sizes. And gifts that are great for birthday parties, bachelorette parties, too.
Would you tell us your two favorite logos in our blog comments. If you have a moment, tell us WHY you like those two, as well. We appreciate your help with this! Your opinion matters to us.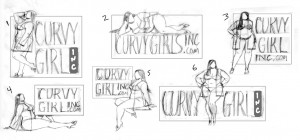 CurvyGirlInc.com
We will keep you posted about our progress on our Facebook page for BlissConnection.com –  www.Facebook.com/BlissConnection but we do plan to build a separate fan page for Curvy Girl, too.
Thanks for all of your LOVE and support. This is going to be fun!