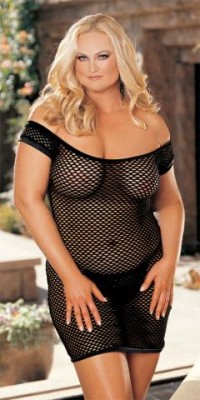 I am contemplating the first ever brick and mortar store dedicated to lingerie for curvy women size 12 up to size 6x. And, if I do it, I am thinking about calling it "Curvy Girl" by Bliss. I even bought a URL  www.CurvyGirlInc.com just in case I can make this happen. If I do this, it would be in San Jose and no sex toys. Just lingerie, sexy shoes and gifty gifts like  pin-up girl stuff, sexy martini glasses, flasks, etc.
I was thinking today that if I can make this happen this year, I am going to need a tag line. I thought it would be serious fun to ask all of you for your ideas for a tag line. I only have one rattling around in my brain – and it's more just for fun ads and stuff – not really a tag line. But, I always say my customers always give me my best ideas!
So, let's hear yours here. Comment here on my blog (you can post on Facebook, too, but to be entered into the contest, you need to respond here on my blog) with your ideas. Short and sweet tend to be best. But, get down with your bad self.
Ready to hear mine? You're going to laugh.
"Curvy Girl Lingerie : We like big butts and we cannot lie!"
Ok, I know you can do so much better. Enter as many as you like. We will send a Bliss romance package with some edible massage oils. a silver bullet and some nipple nibbler to the winners. (We will likely pick 2 or 3 if we get a big response.)
So, please comment below with your fun tag lines for my concept "Curvy Girl Lingerie"
Blissfully, Chrystal
www.Facebook.com/BlissConnection
Our very tasteful sex toy online store is at www.BlissConnection.com and our blog readers can use the coupon code BLOG for 15% off any time.