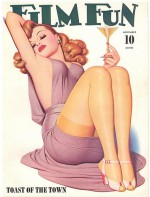 Vibrator: Over 1,200 orgasms and still counting. The 5 Speed Bullet vibrator has over 1,200 climaxes recorded on our orgasm counter. I am pretty sure the number is 100 times that and then some. Can 1,200 women, a sex toy expert and our sex toy bloggers all be wrong? I think not. And, this sex toy is a personal favorite of mine.
Five different ways to hit your mark with this love bullet: slow pulse…medium pulse…high pulse…medium vibration…high vibration…This toy can bring you close and back, close and back– and you're the one in control.
Our sex toy blogger Sapphire loves it, too.  Sapphire does cam shows and all sort of other creative stuff and she wrote a very honest, sexy blog about the 5 speed bullet. Check out Sapphires 5 Speed Bullet Review.
This vibrator is fun to use alone or with a partner. It takes a 9 volt battery and has a super awesome power switch that allows you to easily move in between the various speeds this lovely toy offers. I feel strongly that every woman in the U.S. over the age of 18 should have a silver bullet (www.FreeSilverBullet.com ). And, it would be a dream of mine if every woman also owned a 5 Speed Bullet from BlissConnection.com   And, beware, Speed 5 is not for the faint of heart.
Have you tried the 5 speed bullet? Tell us your review of this wunder-sex-toy.
Are you a fan of bliss? Join our fan page on Facebook at www.Facebook.com/BlissConnection