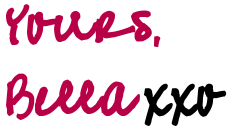 Bondage On a Budget from Mistress Arabella. I am so thrilled to have Mistress Arabella from Bombshells & Rockstars as our guest "Better Sex Radio" blogger today.  If you love great information and a little bit of kink thrown in, check out their "Guide to sex, dating, culture, kink, playing hard & staying safe. We do all the dirty work, so you can have all the fun!"
5 Tips for Bondage on a Budget: The key here is being comfortable, and being able to enjoy new sensations and a new experience with your lover. The first step? Gather your materials. I'm not sending you on too much of a wild-goose chase. There are just five.
1. Rubber bands
I like the red ones from around celery bunches aka produce rubber bands. You can also get extra-thick rubber bands at your local office supply store. Use these around the base of the breasts. One for each. No rope needed.
2. Clothespins
Standard wooden or plastic clothespins. You really only need two; one for each nipple. Look in the laundry room, or your junk drawer. If you find you or your partner enjoys a little pain, you can use more all across the surface of the breast. Or, journey downward to the lower erogenous zones. You can usually find a pack at the Dollar Store or a place like Target or Walmart for just a few bucks.
3. Spatula (Silicone)
Check the kitchen, of course! Otherwise, again, put it on your list for the Dollar Store or your Target or Walmart-type place. Love silicone because it can be boiled or put in the dishwasher to sterilize, unlike the traditional wooden spoon that is often thought of in naughty fantasies. Fun to drag across your partner's body & for light spanking!
4. Nylons
Ripped, non-ripped, doesn't matter. Check your drawers. If you or your partner doesn't wear nylons, pick up the cheapest ones you can at the store. You know, the ones that come in the little plastic bubbles for 99 cents. Knee-highs work great here, because we'll be using them as ties. You want at least four, or two-pair.
5. Fabric headband
Makes an easy one-step blindfold. No tie required. If you're not comfortable not being able to see, skip this one!
I love these items because not only are they enjoyable for first-timers venturing into the world of bondage (and light s/m), but they are all quick-release, which means that they can all be undone fast if the situation calls for it. Remember, safety first. That will allow you and your partner to truly have the most fun!
In that spirit, set up a safe-word in advance. What's a safe-word? It's a pre-negotiated word that allows both partners to know that the current activities need to cease. Either partner can use it. The one tied up, or the other. You can use it if you get a leg cramp, if you get scared, or if you really have to pee. Even if you just want the dang nylons off your wrists so you can hug and kiss your partner. The reason doesn't matter. Never be afraid to call your safe word.
Make it something totally different than "stop" or "don't" or "mercy" … Think about "elephant" or "red" or "jelly beans!" that way, if you say it, your lover will know you really mean it, and will stop all activity immediately. The safe word is also a signal for all bondage to be undone, and all props to be taken away. Make sure you negotiate this in discussion before you get your props together and begin any play at all.
You never want to cut off blood supply or circulation, or do anything that might damage tissue. The great thing about using nylons for your ties (whether you're tying your lover (or being tied) to bed, chair or just wrists and/or ankles to each other) is that it stretches, and if you or your lover panics or if there is an emergency, you can usually get out pronto, without scissors. To stay safe, though, do keep a dulled pair of kid's scissors right next to your play area, wherever you're playing. Safety scissors work, too, if you've done rope play or have one from a first-aid kit or whatever. They will not cut a person, but will cut through the nylon. Nifty, huh?
Get creative, and let loose! Think about sharing sensation with your lover. Kisses, gentle nibbles. Swirling your tongue around. Mayhap playing with an ice cube. Or a bowl of heated, edible massage oil that you can dance on his or her skin and lick and suck off, while he or she is tied up in your sexy role-play fantasy.
You can also play with a fluffy makeup brush or a clean feather-duster on dry skin. Body powder is fun, albeit a little messy, and they do make special edible body powder for sensation-play. Remember that usually, simple is best, and your own body is your greatest tool to pleasure your partner. Don't be afraid to use it!
(With first-time bondage experiences, I'd be careful about bringing any explicit oral sex or intercourse into the mix, unless you discuss it in detail in advance. Being tied-up can make a person feel extremely vulnerable. And when exploring new experiences, it's better to tread cautiously than unknowingly hurt your partner.)
For more on kink, come visit me over at Bombshells & Rockstars | Your Guide to sex, dating, culture, kink, playing hard & staying safe. We do all the dirty work, so you can have all the fun! You can LIKE their Fan Page on Facebook, too.  Bombshells & Rockstars on Facebook
Please also join our BlissConnection on Facebook Fan Page, too! You can also shop our very tasteful online romance store www.BlissConnection.com  and be sure to use the coupon code KISS for a free vibe with your $50 purchase.