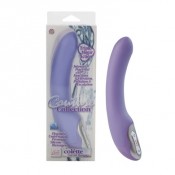 It's so nice that the sex toy industry is now so focused on making artful and beautiful sex toys. So many companies are making these toys that look like pieces of art. When I first got the Colette Curved Massager from Cal Exotics I was very impressed with how beautiful it was. Yaaaaa. (Another beautiful toy from Cal Exotics it the L'Amour. I reviewed it here, too, on our Bliss blog.)
And, I was also impressed with the weight of this toy. When you have it in your hand, it has a little heft and weight to it. It's also fairly girthy and I would describe it like a very girthy banana. The dildo is about 6.5″ long but only about 6″ insertable. But, honestly, I find that while women seem to enjoy large penises – they seem to prefer toys that are not so big. And, I should mention this toy was sent to me by Cal Exotics as I am one of their sex toy reviewers for their Sex Toy Sex Expert toy review program. Have I mentioned I love my job?
I have personally facilitated over 1,300 Bliss Pleasure Parties in the last 8 1/2 years and I find that women are really only looking for about 4″ of insertion from a toy. But, that is good news is that with this toy you can insert as much or as little as you like. When the toy is longer then 4″ the rest of the toy is a handle which is nice when you are using the toy alone.
What I really loved about this toy, the Colette Curved Massager, is the POWER and the variations on the speeds and pulsations. If you know me at all or if you follow my blog, you know I like toys that tease the clitoris and that provide a variety of speeds and pulsations. My all time favorite toy ever is the 5 Speed Bullet and I talk about it all of the time in person, on Facebook and on this blog, too! The Colette has similar speed and pulsations and that makes my heart sing!
I also love that this toy is made with a very yummy silicon and it is completely body safe. No phthalates in this toy so it's perfectly safe for vaginal insertion. And, if you want this toy to last a VERY long time then take the batteries out in between use. Taking the batteries out of your sex toys does help them to last much much longer. (Plus, have you ever had your batteries like and go bad and ruin a sex toy? It just plain pisses me off when $8.00 worth of batteries ruin a $100 sex toy.)
We do sell the Colette Curved Massager on our Online Sex Toy Store www.BlissConnection.com along with various other toys in this line of Couture Collection from Cal Exotics.
Enjoy our style and review? Then why not join us on facebook or follow us on twitter? On Facebook, we blog about sex toys and all things related to sex at www.Facebook.com/BlissConnection and you can follow up on Twitter at @blissconnection
We also do Bliss Pleasure Parties all over the San Jose and San Francisco Bay Area. Give us a call and you can meet the Colette up close and in person at your sex toy party. Tel: 408-712-3809