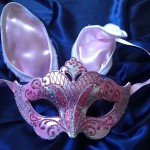 Buxom Bunny
Hi Blissful Peeps,
I'm Buxom Bunny and I am a new sex toy blogger for Bliss Connection. Luck was with me the day I decided to check out Curvy Girl, which had recently opened in San Jose. While shopping I got to talking with the lovely Chrystal Bougon and mentioned I was starting up a blog of my own to help women (re)access themselves, their confidence, and their sex lives through writing about my own adventures and misadventures, my fall from confidence and utter lack of libido, and how I got it back even with the decks stacked against me.
I also mentioned to Chrystal that I'd also like to recommend and review my favorite toys on the site as another resource for my readers, which is when she asked if I'd like to be a guest blogger for her. I decided fate must have been at work, considering I've been going crazy from being house-ridden from a nasty injury for over two years, and my husband and I stumbled upon the idea to start a blog only a week before meeting with Chrystal, and so here we are! I am very excited to be contributing to Bliss-Radio and hope you enjoy my reviews as much as I enjoy reviewing the products and writing about them!
But getting more on topic, after the explosion of the novel, Fifty Shades of Grey, a lot of women (and men) are more curious about bondage, and with very good reason! I have a few restraint systems, and I suppose it's like buying new shoes, do you really need it? Probably not, but you just want it so bad! And that's where the Sportsheets® 4-in-1 Handgrip Restraint Kit comes in.
This particular restraint system is rather simple in design, it's a two point harness, with one under the bed strap and one over the door anchor, its' big feature being the handles on both of the two cuffs. The strap and over-the-door anchor both have D-rings, and the cuffs both have a clip, making it easy change positions quickly and efficiently. The handles are great to hold on to while in the throes of a particularly intense orgasm, and the cuffs are very soft. The over the door anchor also is very functional, it was at just the perfect length for me, though I'm 5'7", so if you're much shorter or much taller than me, then you may not have as much success with the over the door feature.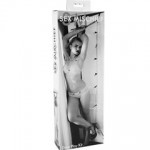 My biggest, most abiding problem with restraint systems is that while they all say they will fit a king sized bed, they just don't. The same is true with this restraint, however, that doesn't mean we can't get creative! Since the under the mattress strap was definitely too short (even though it is adjustable) I had to think outside of the box, and instead we wound up tying it vertically around the footboard of our sleigh bed frame, and we had a nice over-the-head wrist restraint. While it's definitely fun and very enjoyable, I personally like a little harsher bondage play, so I found the cuffs a bit too soft (as I tend to prefer handcuffs) and the handles, while great to hold on to, are made of a plastic sheath, so they give and bend a bit without a ton of pressure. And a potential problem for men and women with larger hands is actually what is so great about it in the first place, the handles! I personally fit my hands into the handles ok, though it was a bit snug.
All in all, this is a great restraint kit for beginners looking to dip their toes into some light bondage play. It is fairly versatile, even with my bed's limitations, and will be even more so for you if you have a queen sized bed, or a big easy chair to wrap the strap under, as shown on the product's box. So if you're looking for some creative and gentle bondage, the cuffs are nice and soft with a scuba suit type material, and Velcro closed, and are perfect for light bondage, or for marathon 'fun time' sessions where your wrists would get very sore from leather or handcuffs, then this set is for you.
Hopefully for my next review Chrystal will indulge me and my love of bondage and let me try out the Door Play Kit, I've been dying to try out some more upright bondage, preferably without drilling holes into the ceiling!! I guess I'll just have to think of some other creative things to do in the meantime 😉
Until next time lovely ladies and gents,
BuxomBunny
P.S. Have you liked us on Facebook?   www.Facebook.com/BlissConnection or our Curvy Girl page is www.Facebook.com/CurvyGirlInc