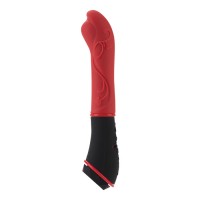 This is an interesting vibrator. I was not that excited when my "Sexpert" toy for the Cal Exotics Sex Expert program arrived this month. But, I grabbed two AAA batteries and popped them in the toy and was VERY impressed.
I just needed  to be seduced, it seems. And, once I felt the HUMMMMMMM of this vibrator, I was sold.
The design is very pretty and it is made with premium silicone which feels super silky and sexy in my hands. It has a beautiful sort of inscribed floral motif on the sides to give you just a little bit of texture when you use it for penetration. (And here's a blog I wrote about 9 Ways to Use your Sex Toy with your Guy.) And, toys do need texture on them or you just do not really feel them inside of you.  And this toy could be used for clitoral stimulation or for penetration. (And to make it last longer, take the batteries out in between use.)
The handle and the power controls are very different from other toys. It has this unusual switch that lets you sample all 10 speeds very easily. I have a deep love for speed 2 and speed 7. You know, I love toys that pulse and escalate like the 5 speed bullet. This vibrator has all kinds of interesting patterns and speeds. (And you can buy one of these Tantric massagers from our online sex toy store BlissConnection.com – use the coupon code BLOG for 15% off.)
Wwhat I was most impressed with is how quiet this sex toy is! This toy would be great for a Mom or a woman with roommates. It vibrates with a different kind of frequency. Not the same old kind of vibrator. To me, it feels more like a electric toothbrush style vibration.
When you climax with this toy, because of the unique kind of vibration, the orgasm feels like it comes from the inside of your body and out. With the other bullet style toys, the climax feels like it happens on the outside and then in. Not sure if you connect with that, but that is the best way I can describe it.
I can see this being a really fun toy for couples to keep nearby to use as a nice foreplay warm up for her before the main attraction. A guy could uses this vibe to tempt and tease his wife or girlfriend a little bit… this toy could be the appetizer… he can be the entree.
Is this the best toy since sliced bread? Probably not. But, I think it would be fantastic for traveling and great as a warm up tool for couples. The quality feels really nice in your hands and the motor is VERY strong and VERY quiet.
 Have you tried it? What did you think? We have more sex toy reviews on our blog here.
Do you like our SEX TOY REVIEWS and our style? We'd love it if you "liked" us on Facebook or followed us on Twitter.   www.facebook.com/BlissConnection and @blissconnection on Twitter.
Blissfully, Chrystal Bougon  owner of www.BlissConnection.com and we do Pleasure Parties all over the San Jose Bay Area. Tel: 408 712 3809