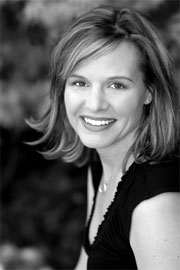 "Giving her the sex she wants so he can get the sex he wants."  I stole that from the "What Women Really Want" website. Sounds like serendipity to me. I was talking with a customer at one of our pleasure parties the other night and my advice to her was to get "greedy" in bed. She is having trouble climaxing with her husband. I was sharing with her if she focuses on her own pleasure and makes it all about her – he will end up having 10 times as much fun. If she is focused on her own orgasm and how to get herself there, he will be thrilled to be along for the ride, right?
This week, on Dec. 22nd, I am excited to have author Cynthia Gentry on my Better Sex Radio Show and Podcast. Cynthia W. Gentry is the co-author, with Dana Fredsti, of What Women Really Want in Bed: The Surprising Secrets Women Wish Men Knew, the follow-up to What Men Really Want in Bed: The Surprising Facts Men Wish Women Knew About Sex, which she wrote with her husband, Nima Badiey.
She is also the author, with Roxanne Colville, of Secret Seductions: 62 Naughty Nights, Lusty Liaisons and Sexy Surprises and The Bedside Orgasm Book: 365 Days of Sexual Ecstasy, reissued in paperback as Mind-Blowing Orgasms Every Day: 365 Wild and Wicked Ways to Revitalize Your Sex Life. She wrote. She is also the co-author, with David Ramsdale, of Red Hot Tantra: Erotic Secrets of Red Tantra for Intimate, Soul-to-Soul Sex and Ecstatic, Enlightened Orgasms, for which she wrote the erotica.
Cynthia's erotic short story "Just Friends" was published on RavenousRomance.com and recently included in the Ravenous Romance anthologies Wicked Pleasures and Threesomes. She's frequently interviewed by magazines like Glamour and Cosmopolitan for articles on sex and relationships and has also appeared on radio shows such as Sex with Emily and Playboy Radio's Night Calls.
Gentry's fiction and journalism has appeared in Area i, The Montserrat Review and Reed Magazine, as well as magazines such as budget savvy. She has also covered film festivals for indiWIRE.com and has written for the Literary Arts section of SFStation.com. Her film reviews for the Web site Dailygossip.com garnered a loyal and avid following.
Gentry has a master's degree in journalism from the University of California at Berkeley, where she was the recipient of the Edna Kinard Prize, the Alfred & Ruth Thompson Perassolo Scholarship and a Regent's Fellowship. She graduated with departmental honors from Stanford University with a Bachelor of Arts degree in English. She lives in Northern California with her husband and son.
Please tune in this Wednesday the 22nd at 11 a.m. Pacific as we talk about SEX and what women and men really want in bed. You can here our past shows on iTunes.   www.BlissOnITunes.com and become a fan of bliss on Facebook. www.Facebook.com/BlissConnection