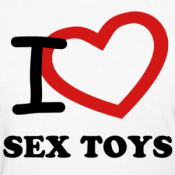 There are certain sex toys that everyone has heard of. There's the Pocket Rocket (mostly thanks to Howard Stern who brings it up on the air often), the Hitachi Magic Wand, the Pearl Rabbit ,  Ben Wa Balls, the Fleshlight (for men)  and hopefully, the Silver Bullet. These toys are part of the lexicon and a part of pop culture.
Sadly, the sex toys that are used in pornography often happen to be some of the crappiest sex toys known to man. (IMHO!)  They always seem to use those shiny "missile" style toys that look like a rocket ship.  BOOO! Women rarely buy those missile style vibrators. Most women are not looking for something made of hard, cheap plastic and that looks like a big rocket ship. Just my two cents. I have been educating and entertaining women and couples about sex toys for over 10 years. Women rarely ask for something that is shiny, 10″ long and made with hard plastic.
So, here are 7 Sex Toys I think all Women Need to Try Before You Die!
1. The Original Rabbit Pearl first invented and shipped in 1984. This toy was made famous by that episdoe of "Sex and the City" where Charlotte would not leave her penthouse suite to have brunch with the girls. They SATC characters had to form an intervention to get her to leave her rabbit… and with good reason!  This "twice as nice" toy gives a woman about 3 – 4″ of penetration with simultaneous clitoral stimulation from the rabbit ears. The ears hug your clitoris. The rotation of the pearls hit you at your vaginal entrance where we women get a nice concentration of nerve endings. The rabbit ears hits your clitoris just perfectly to stimulate all 8,000 nerve endings there. (And let's not forget that the original rabbit made by Vibratex is made in Japan with Honda motor parts!)
2. The Hitachi Magic Wand is one that almost everyone from your grandma to your kids school teacher seems to know about. It looks like a back massager, but the massager feels good anywhere and everywhere on your body. This is a very popular toy among gay women and we all know that lesbians know their sex toys.
3. The Rock Box is a newer toy and another electric toy like the Hitachi Magic Wand. It looks like a big tongue and it can be very powerful. It's so powerful that the manufacturer suggests you try it OVER your clothes before you graduate to trying it on your bare naked clitoris or penis. It has a dial on the toy that can amp it up to anywhere from a 1 to a 10.  Very very fun. (Here is my sex toy review of the Rock Box.)
4. The rechargeable Lelo Nea is so small, compact and versatile. It's a teeny tiny little bundle of fun. It is rechargeable so no batteries required. It fits perfectly over your pubic bone for clitoral vibration and it's small enough you can drop it in your panties and use it as a hands free vibrator when you're out and about! Plus it's artful, beautiful and strong!
5. The Lia Magic Wand from Cal Exotics is a newer favorite of mine. I am so convinced that a woman designed this toy. For starters, this toy's vibration feels more like the Philips Sonic Care toothbrush. It has 10 speeds or as they say "magical functions." Two things I love about this toy… it has a KILL button so when someone interrupts you it's easy to shut the toy off with one buttons. (Great if you have kids.) And, like a good man – this toy remembers your favorite speed. If you like speed 4 alot it will notice it and the next time you use it, it will start on speed 4. The vibration is so totally different from the other toys I have tried. This toy also has a g-spot "bend" to it so you can use it for g-spot vibration or clitoral stimulation.
6. The 5 Speed Bullet if my ALL TIME favorite toy so I had to put this on the list. I love the simplicity of this vibrator and how affordable it is. But, why I really love this toy is for all of the pulsations and escalations of this vibrator. It has 5 speed and uses a 9volt battery for lots of power. Speed 2 is what I always refer to as the speed of sex. Speed 1 teases you. Speed 2 and Speed 3 make it happen. And, I always joke that Speed 5 is only for special occasions! It's a lot of power and not for every day use.
7. The Fleshlight for all of our male customers. And, this can be a fun toy for couples as well. The fleshlight is likely the number one selling male sex toy. I have no way to verify that, but based on the amount of marketing and advertising they do, I am pretty sure they sell millions of them every year. Every man I have ever know who has tried it RAVES about it and they even make a Fleshlight Stamina Trainer which can help men to last longer! Weeeeeeeeeeeeeeeeeeeeeeeeee! Since most women need 5 to 20 womens to climax, this is a cool tool for couples.
Are there other toys you would add to this "try before you die" list? I would love to hear your comments below.
If you "like" our style we would love it if you would join us on Facebook, too.  www.Facebook.com/BlissConnection