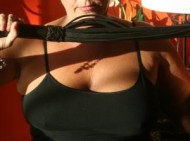 Pleasure Artist. Now that is a title! We should all strive to be a Pleasure Artist, don't you think. I am very excited to introduce my Better Sex Radio listeners to a Bay Area legend. Miss Jaeleen, also known as "Miss Bondassage."  Miss Jaeleen is a local Professional Domina and Erotic Sadist. Tune in as we stream live on Wednesday, Nov. 10th at 11 a.m. Pacific as I interview Miss Jaeleen about her erotic massage and domina practice here in the Bay Area.  (Bliss is also a Bay Area company. We're based in San Jose.)
This is from Miss Jaeleen's website:
Curious Beginner? Nervous Novice? Fascinated by BDSM but not sure where to start?
Try Bondassage!
I am the Creator of Bondassage, and I am delighted to introduce you to my intensely erotic combination of Light Bondage + Sensory Deprivation + Erotic Massage + Sensation Play. Whether you're a Nervous Novice or an Experienced Player, I welcome you with an open heart and encourage you to sample this incredibly sensual art form that's unlike anything you've ever imagined.
My Erotic Bodywork is a unique blend of Eastern and Western techniques combined with breath and energy work. To this, I add soft luxurious flogging, light hand and cane percussion, a sublime medley of sensation play and lots of attention to the "naughty bits".
Come and experience a deliciously creative erotic playground ~ Bondassage is designed to awaken the body to profound sensations of pleasure and peace. I offer this incomparable experience to you at my warm, private, candlelit studio at the beach in Capitola. Let me take you on a journey of exquisite erotic ecstasy ~ you'll discover yourself dripping with desire as you explore the softer side of sensual dominance.
I am a Certified Massage Therapist (CMT), Professional Dominatrix, Reiki Master, Urban Tantrika and Sensual Shaman with over 21 years of experience. I have extensive training in several healing modalities: Amma, Swedish, Acupressure, Shiatsu, Deep Tissue, Sports Massage, Reiki, Rebirthing, Polarity, Trigger and Active Release, Thai, Tantra and Taoist Massage, Shamanic Journeying, Aromatherapy, and Esoteric Energy Healing. I am a graduate of Barbara Carrelles' Urban Tantra for Professionals program. I am a classically trained Soprano, an acclaimed fiber artist, a fledgling yogini, and a longtime Vipassana practitioner.
As a Pro Domme, I am an accomplished Erotic Sadist with decades of experience in the "darker arts" of BDSM. I specialize in Corporal Punishment, Bondage, Sensory Deprivation and a wide variety of Body Play. Please visit my website www.missjaeleen.com for more information on my BDSM or Therapeutic Massage services. I warmly welcome novices, couples and consultations.
Satisfy your perverse cravings with a consummate pleasure artist. Surrender and release the mundane world completely. Come to your senses and dive into ecstasy…
Don't know about you guys, but I have SO MANY questions for Miss Jaeleen. I have so much to learn! Tune in on the 10th of Nov at 11 a.m.
You can also submit your questions for her on our blog our join our Facebook Fan Page at www.Facebook.com/BlissConnection
To shop for some naughty goodies, you can check out our very tasteful online romance store at http://www.BlissConnection.com