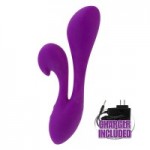 This toy is just beautiful to look at, isn't it? It doesn't hurt that purple is my favorite color. This is sort of a plum color, but it is gorgeous. As I said on my online store about this toy … "it's like buttah!"  (BTW, I did also write a 5 star review for another Jopen rechargeable toy called the vr7 here. )
Jopen.com makes all of these unique looking rechargeable sex toys for women. They are all beautiful and you have to love the fact that there are no batteries required! It plugs into a little plug that looks like a cell phone charger. Purrfect!
I love pretty much all style of "twice as nice" toys which are the style of toys that give you a little bit of penetration and clitoral stimulation all in one toy. Let's face it. We need clitoral stimulation to have an orgasm most times. And, this toy provides just that. And I love that the Jopen line is waterproof and super quiet. And, my favorite way to clean this toy and all of my own personal sex toys is with an unscented baby wipes! (And here is a blog that I wrote with some tips for helping your sex toys to last longer.)
So, to the toy. Ok, I am giving it 5 stars out of 5 stars. I wish it were more affordable, but it is a luxurious sex toy and worth every penny if you have the budget.  When you first receive it, it only takes 4 hours to give it a full charge and the charge lasts forever and ever. Seriously impressed. Much better charge then my damn droid cell phones from Verizon.
This toy is great for Moms and people who have roommates because it is one of the quietest toys I have ever used. And, I know the sound level of some toys can actually make it difficult for women to climax. Many times, when you get a toy with a clit stimulator, they can get REALLY loud…. especially when you are pushing it down on your clitoris. Not this one! Love that. I think the women who desiged the Jopen toys have kids at home maybe. And I love how flexy and bendy the beautiful clitoral stimulator is on this toy. You can do all kind of positions and gyrations with this super bendy "musical note" looking vibrator!
Your partner can have you in their arms and have the toy in their hands using it softly all over your body and can continue to make out with you or kiss you all over while using the toy all over. When the time is right, they can begin using it all over your inner thighs and go from there to the really good bits!
Something that is also very unique about the Jopen.com toys is their warranty. All of Jopen.com 's toys have a 1 year warranty and an optional 10 year guarantee. That is pretty amazing and super cool given that this toy is on the high end side of life when it comes to sex toys.
You can buy the Jopen vr5 from Bliss and use the coupon code VIP for 15% off this luxury sex toy.
Buy the Jopen vr5 Fleur from Bliss now.
If you like our style, you can also LIKE us on Facebook.  www.Facebook.com/BlissConnection