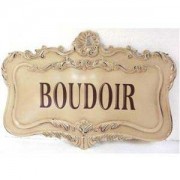 I often say my best ideas come from my customers and this one is one of those ideas. It was a Bliss Pleasure Party  for this young woman's Bachelorette Party that I got this inspiration.
My hostess on a recent Saturday night had some really beautiful boudoir pics taken as a gift she is giving to her husband on their wedding night. They were gorgeous and in this super cool hard bound book. The company that did them did a great job! She is a very pretty woman and the photographer really made her sparkle.
Her friends were checking them out and one of her friends shared this cool idea. She said she wanted to give the "boudoir" pics a TRIAL RUN at home and her husband LOVED the idea.
They got rid of the kids for a night (her husband asked his Mom to take te kids for the night) and tey got all kinds of props together. BIG PROPS to her hubby for taking care of the babysitting details. I am sure that put her in a much more playful mood. Most women would do REALLY naughty things for their husband that work out babysitting details… hint hint to our male readers.
While he was dropping off the kids, she got her make up and hair all done so she felt super sexy. She even paid the $20 at the local nail salon and had them put on fake eyelashes for her so she could have the dramatic look. She got her toes and nails done, too. (Big day of pampering her also normally always pays big dividends guys!) 
When he got home, she had her first outfit on – cute black bra, black panties, black stockings, black shoes and a apron. They were going to do a kitchen photo shoot first and then move in into the t.v. room and then lastly the bedroom. LOVE THE STRATEGY planning meetings they must have had for this evening of fun. (Lots of planning beforehand gets everyone really excited.)
And, to answer your question – no she is not a size 2. This sexy, confident, beautiful woman is a size 18 and simpy stunning. What she and her husband thought this AT HOME boudoir session would do for them is to help them understand her BEST angles, BEST lighting and BEST outfits because yah – her body is not MAXIM perfect – but HER HUSBAND loves every inch of her.
So, they had fun with the spatulas, the oven, the rolling pin, some whip cream and her serving up some "pie." I will leave it at that… use your imagination.
Then they moved to the t.v. room and she put on his favorite football jersey, grabbed his football, dribbled his basketball, took some pics with his guns (unloaded THANK YOU) and her pretending to be a cheerleader. This was not her favorite series of pics, but it was an experiment. (I know there are some ball handling jokes here, but will leave them to you.)
Now they moved it to their bedroom and this is where it got really good as you might imagine. She changed into some new panties and a super short skirt, sexy shoes and they played around with photographing her topless – but her keeping her hands over her breasts. She said she just put on her "I am a model" character and started re-enacting every model photo shoot she has ever seen on t.v. She said they even tried some pics with the room fan on to give her hair that "blowing in the wind" look.
The story turns a little naughty here so I will leave it at that, but imagine how much fun they had planning, looking for ideas around the house, shopping for shoes and stocking, thinking about it for weeks leading up to it, and then the actual night. I am sure the sex was out of this world. She said something along the lines that their sex life hasn't been this hot in 10 years! Apparantly they took over 300 pics and they never planned to take such dirty pics, but since it was digital and it was just the two of them – they just went for it.
I think it's a super creative idea and I am all about ideas that help all of us to have better sex. She also booked her official appointment with the "official" boudoir photo session and feels like she has a better idea of what she wants the professional photographer to do when she goes in for her appointment.
Ok, so where's your camera? Do it! Then when you are ready, contact one of my
friends and have your own pics taken professionally.
I have mentioned some of my friends here who are boudior photographers:
http://www.JbrownPhotography.com/ Jeanine Brown, South Bay
http://www.MarianaMaya.com/ Mariana Maya, South Bay
http://www.LoLosBoudoir.com/ Lone Morch, North Bay
Need some special props or toys for your photo shoot?  Check out our very tasteful online romance store at http://www.blissconnection.com   or book your own pleasure party by calling us at 408 826 9087