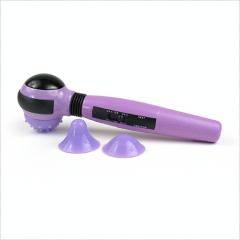 Does a truly "sure thing" exist? Oprah and Dr. Berman seem to think so, since that's what they called the Aphrodite sex toy on "Oprah's Best Life" series. Dr. Berman created the Aphrodite just for women who have trouble achieving orgasm – and ladies there are more women out there who are missing out than you might think! That's a situation we're trying to change at Bliss Connection by bringing you sex toys like the Aphrodite.
What makes the Aphrodite stand out among sex toys is that it has a warming infrared head on one side and interchangeable silicone attachments on the other. The smooth, pinpoint and nubby heads will give you a variety of sensations – play around and experiment with it to see what you like best! I love that the silicone attachments are a little bit soft and flexible, and that you can bend the head to get just the right angle. It has two speeds (low and high) but you can only use the infrared head on the low speed.
Another sweet thing about the Aphrodite is that the infrared heat makes it a nice all-over massager. Start with a sexy exotic massage with your partner and let the Aphrodite do its thing. If you need some tips on how to use the Aphrodite with your partner, check out this blog post about 9 Ways to Use Your Vibrator With Your Guy.
The Aphrodite is a rechargeable sex toy, so while there's no messing around with a cumbersome cord or scrambling for fresh batteries, you have to remember to fully charge it if you don't want the vibrator dying at a crucial moment. You'll definitely want to give it a full 24 hours to charge up before you first try it out, and try to charge it for 12 hours between uses if you want it to perform at its best. The Aphrodite is not the quietest vibrator we carry, nor is it what I'd call petite – but that's not necessarily a bad thing, it just depends on what you're in the market for, and after all, Oprah called it a "sure thing!"
Buy the Aphrodite from Bliss now.
If you like our style, you can also LIKE us on Facebook. www.Facebook.com/BlissConnection