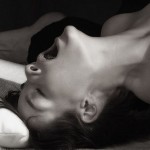 The Little Book of Big Orgasms is our topic on Better Sex Radio this week. Tune in at 11 a.m. Pacific as I interview author and femme fatale Susan Crain Bakos about her newest book "The Little Book of Big Orgasms." You can hear us as we stream live this Wednesday on our Better Sex Radio blog.
At Bliss, we are all about teaching women and couples all about the various techniques, products and games they can bring into their boudior. Thankfully we live in an amazing country where you can find thousands and thousands of books on this exact topic.  But, I always get excited when I get a book that has a subtitle " More Techniques & Games for Amazing Orgasms Than You Could Possibly Imagine Trying."  Sounds like a challenge to me! I am game.
This book is filled with all kinds of awesome techniques and some really fun roleplaying games, too. One of the author's role playing ideas really struck a chord with me. It's called "The Door to Door Vibrator Sales Man" game.  The set up is that the male partner dresses up like a door to door salesman and brings in a suitcase full of sex toys to show and sell to the "lady of the house."  LOVE THIS IDEA  for obvious reasons. (If it's not so obvious to you, you may not know that I own a Pleasure Party business called Bliss Pleasure Parties. Sort of a take on a "door to door salesman" although there is never any sex involved. Atleast not until after we leave our customers home that is.)
The author, Susan Crain Bakos, has been on our radio show before and we are very excited to talk with Susan about her latest book and her blog, too! Susan always has lots of fun experiences and ideas to share and she is a very lusty, vivacious and flavorful interview.
Read for some of yor own orgasms and games? You can browse our online sex toy store BlissConnection.com to check out our various vibrators, sex toys, games, books and lubes to act out the role playing fantasies and other naughty tips that Susan shares with us in her newest book.