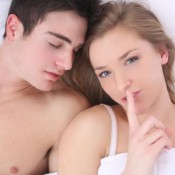 Sex Questions:  We all have those – even me and I am a Sex Toy and Sex Expert. I have partnered with a company called AlwaysEden.com and they have a fantastic anonymous interface and website that allows you to have those touchy dialogues and difficult questions.
The creatores of AlwaysEden.com know that when people are together in groups in a private situation, the talk always turns to sex.  How many parties or Girls' Night Out have turned into a chat fest about everyone's favorite topic  S.E.X.  ?  Do you ever notice anyone talking about sex and their sex lives on Facebook, Twitter and LinkedIn? (Well, besides me?)  A.E. knows that we all have questions and issues we want to get answers to, but we just can't ask them on traditional social media sites. And, they know that there are some things we just do not talk about with our friends and family.
AlwaysEden has created a very cool site with lots of ways to interact with the other members and with me, your local, neighborhood Sex Expert! You can ask questions, take surveys, you can read the other members input, you can ask questions of the other members and you can join various groups – all Anonymously. Everyone likes anonymity when they are asking questions about anal sex, erectile dysfuction, how much masturbation is normal, and when they want to talk about the lack of sex they are having. AlwaysEden gets that and has created a place for these conversations.
I would love for you to check it out and become a member. It's totally free and completeley anonymous. I am the only person whose handle you might recognize. You can join the group and start looking around and asking those burning questions. Need some advice on which kind of sex toy to buy? Do you want to know how to bring up the prostate massage conversation? Just want to have some naughty repartee with other anonymous members? Then sign up today!  Just go to http://www.AlwaysEden.com and sign up for your anonymous handle and let the games begin!
You can also browse our online very tasteful online sex toy store BlissConnection.com  and check out some of our sex toys for women and couples. If you have a question about which toy to buy, just add your question to AlwaysEden.com and we will get back to you!