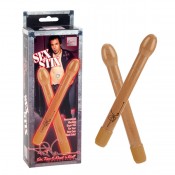 Drum solo anyone? Yes, these drum sticks are vibrators and apparently, Phil Varone himself helped design these sex stix.
"These Sex Stix were designed by Phil Varone, the iconic drummer of rock bands Skid Row and Saigon Kick. At 7.5 inches long and just under an inch wide, you'll find lots of creative uses for these multi-speed, vibrating drum sticks. You'll be the master of your very own seven stroke roll in no time."
Personally, I do not know much about drums or percussion instruments but I do love a man who has rhythm! I was not too enthused when these first showed up in my mail to test out and blog about for Cal Exotics. But, despite how "schticky" they are and sort of silly, they are actually pretty strong. Each drum stick requires 2 triple aaa batteries, so lots of power!
These high-gloss vibrating drum sticks are sure to provide you with the best drum solo of your life. Use one to stimulate your g-spot and the other to massage your clitoris, or use them with a lover for all-over massage. These vibrating drum sticks are a great gag gift for your favorite drummer, but they're also intense vibrators. I do not recommend them for anal penetration, though. We do not ever recommend any toy for anal play unless they have a STOPPER on the end. (When people get excited, things can get sucked into the rectum. No bueno!)
 You may remember Phil Varone from Celebrity Rehab with Dr. Drew. Phil was on the show trying to work on his sex addiction. I really wonder how it's going for him now. Apparently he also has a dildo out there that was molded after his pierced penis. I have not seen the dildo yet. But, he now has a whole like of sex toys from Cal Exotics. He calls it his secret sex toy stash. He also has a sex video. Just google his name or google "Phil Varone" sex or sex tape and check google images. You will find a ton of images from his porn tapes, of his pierced penis and of his sex toys including one made from a mold of his penis. It's insane how much is out there.  (And, we have a blog here all about piercings and sex… Phil has the head of his penis pierced. Blog about piercings and sex.)
Now, back to the drum sticks. They are not too bad. I would probably not every really tell anyone they MUST have these drum sticks. But, if you have a musician in your life or need a gift for a drummer – this would be perfect. They do vibrate nicely. They are very strong. It's super unique and they work great for a clitoral orgasm and for some fun nipple play. They are cordless so that is a nice perk, too.
Nothing to write home about but nothing to really dislike either. Just not really my kind of vibrator just because it's so kitschy … but they get the job done and could be a lot of fun if you're into drummers, you're a groupie or you love 80's hair bands!
We'd love to hear your opinions about this sex toy? What do you think of their design and their packaging?
Do you LIKE our style? Then "like" us on Facebook.   Sex Toys on Facebook at  www.Facebook.com/BlissConnection
We sell sex toys on our online store  www.BlissConnection.com and our blog readers can always use the BlissConnection coupon code BLOG for 15% OFF your entire purchase on our very tasteful online sex toy store.