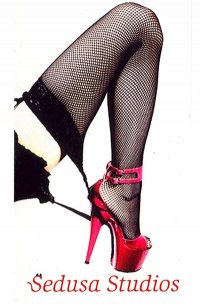 My friend Carol, the founder of SedusaStudios.com, is an amazing business woman. She created the largest sensual and pole dancing studio in the United States right here in Campbell and now has one in South San Francisco and Walnut  Creek, too. I think she opened her doors about 6 or 7 years ago, too. She had a vision and the drive to make it all happen. She helps women of all ages and sizes realize how beautiful they are through this very empowering, sensual dance – and I think that is a NOBLE cause. It's my mission, too. If you have not been to her plush dance studio in Campbell, you need to treat yourself to a fantastic, empowering, sexy and discreet GIRLS' NIGHT OUT! ( I say discreet because when you take lessons there the lighting is low and her dance studio in Campbell is off the beaten path.)
If you do take a Pole Dancing or Sensual Dance series at Sedusa or if you set up a Moms' Night Out or Bachelorette Party at Sedusa, do mention BLISS and you will receive  $20 off your stiletto purchase. And trust me, you are going to want some of your own! Sedusa does lend you their stilettos when you dance with them, but you will want some of their shoes when you get home to practice what you learned. I asked Carol to share with my Bliss fans more about her events at Sedusa Studios  so below is a description from Carol and what you will need to set up your own special event at her luscious pole dancing studio:
Sedusa Studios was designed to host Your event. We have 10-12 20 foot dance poles, a huge dance floor and stage, stilettos, special lightning, incredible sound system, boutique and an abundance of parking.
Plan a Pole Dancing Party. Don't feel you need a reason! It is a great place for a group of female friends to get together for a comfortable, fun night while you enjoy exploring your femininity.
Suggested Event Themes:
Pole Dance Lesson (Learn an exotic Pole Dance)
Sensual Dance Lesson (Learn a Sexy Dance to take home)
Pussycat Dance Party (Learn a fast-paced sassy dance)
Lap Dance Lesson (Learn a Chair Lap Dance – for small parties, less than 10 women)
Sedusa Studios Events are for 1 1/2 hours. You get the whole studio for your group, plus one or more instructors (depending on your group size) to teach you a dance. The most popular dance now is learning a Pole Dance.
Cost: $35 per woman if you have 10 or more women. If you have under 10 women the price is $350.
Cancellation Policy:
NON refundable $70 deposit is required when you book your party. This will be used toward your entrance and for 1 guest the night of your party. The remainder of the party you or your guest will pay that night.
I look forward to dancing with you and your friends,
Carol Whitsett, R.D.
408-867-2224
www.sedusastudios.com