The L'Amour Seduction toy is artfully and beautifully designed. It's so pleasing to the eye which cannot be said of all sex toys as I am sure you know. But, when this vibrator arrived as part of the Cal Exotics Sex Expert program, I was very pleased by the way it looked.
When I opened the packaging, I was also thrilled to see that Cal Exotics used their very yummy silicone on this "twice as nice" dual stimulator style toy. The texture of the toy is almost velvety and super soft and luxurious. We found that you may not even need to use lubrication with this toy when inserting it… it's that smooth.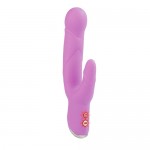 The shaft of this "rabbit" style toy is about 8″ long, but truly only about 4 to 5″ insertable. Since this toy has a clitoral stimulator, it does sort of stop the toy from inserting all the way in – which is just perfect. I find that most women want about 3 to 4″ insertable and a strong vibrator on the clitoris. You get that twice as nice feeling with the shaft giving you the penetratation or "fullness" feeling and then the clitoral vibrator which is most likely going to be the part of this toy that gives you your climax.
This toy the Seduction takes 2 AAA batteries and is waterproof and splashproof. And, thanks to the lovely silicone material, the vibration does travel all the way to through the shaft. The vibration in the shaft likely would not give anyone an orgasm, but the clitoral stimulator certainly will. Much more power to the clit then to the shaft.
If you are new to the rabbit style or "twice as nice" dual stimulators, I think this would be a great toy to start off with to see if you might like that style. It's not super expensive and probably most budgets could afford the L'Amour Seduction vibe. At BlissConnection.com   we sell the vibe for $75. (And we always offer free shipping on purchases over $45.)
Overall, this is a nice toy. I would give it 4 out of 5 stars and a great value for the money. It's super easy to clean and care for. And, just like with all toys, do take the batteries out in between use if you want them to last longer.
Would love to hear your opinion of this vibrator.
And, if you like our style, please "Like" us on Facebook.  www.Facebook.com/BlissConnection