Need an EXPERT to interview about SEX that can speak intelligently using proper terminology and that won't make your listeners blush? Want to talk to a Sex Expert about how to "Beat the Boredom in the Bedroom" that most couples face after a few years of marriage or living together?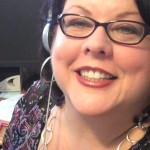 Chrystal Bougon, CTO (Chief Toy Officer) and Sexpert, has personally facilitated over 1,000 Pleasure Parties all over the Bay Area for the last 6.5 years. She has spoken to thousands of women and couples in the comfort of their own home about what issues they have around sex and their most intimate dysfunction. Tap into her brain and her years of experience talking to REAL people about the sex they are or ARE NOT having!  
Who doesn't want better sex?  Then why are most couples only having sex once a month and some much less than that?  Sex is great for you physically but it's also great for stress and reconnecting with your lover so you can battle any life hardships that you may be experiencing. Sex has finally come out of the gutter and is being talked about on Oprah, The Doctors, and even Barbara Walters said toys are not a luxury but a necessity! 
Check out Chrystal's blog about her own Radio Show called Everyone Wants to Have Better Sex at http://www.bettersexradio.net/ and she is on a mission to get every woman in the U.S. one of the more discreet and unassuming toys called the Silver Bullet at http://www.FreeSilverBullet.com
Chrystal Bougon is on a mission  to teach people how to have better sex without being dirty, crude or rude. Her Better Sex Radio was just awarded the Talkers.com Frontier Fifty Award along side radio stars like Sean Hannity, Dr. Laura, Adam Corolla, and Rush Limbaugh after only being on the air for 3 months!!!
In this interview she'll share with your listeners:
Why Millions of women think they are the only ones not having great sex.
How to bring up the topic of more sex with your spouse
Why Sex gets better with age
What problems women complain about all the time! (And the easy fix)
How a job layoff sent her into this field of being America's sex educator.
How to beat the boredom in the bedroom.
What women tell her they REALLY want.
What men tell her that they REALLY want from their partner.
Plus any other topic you want to discuss.
To create a flurry of phone calls and water cooler talk…book an interview with Chrystal now:  Email: Chrystal@BlissPartiesInc.com
Tel: 408-826-9087 or 408-712-3809

Sex Expert, Chrystal Bougon