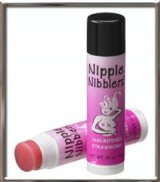 Nipples. Everyone has them. Even men have nipples. Some people are born with three! And, as you will OFTEN hear me say – EVERYONE loves bewbies. Most interestingly of all (to me anyway) is that some women can have nipple orgasms very easily. (Short and sweet article on Men's Health about giving her nipple orgasms.) The statistics are debatable, but they researchers say somewhere between 10 and 15% of women can easily have an orgasm just from stimulating their nips. (Lucky brats!)  And we are offering a FREE Nipple Nibbler "nipstick" for FREE with every item you buy from our very tasteful online store BlissConnection.com. Use the code FRIDAY and we will add a free Nipple Nibbler Lip Balm for every item you buy so you can use them as stocking stuffers.
This topic comes up a lot at our Bliss Pleasure Parties. Many women have never experienced a nipple orgasm and all of us want to. We invite our pleasure party guests to try the nipple nibbler during our presentation. We pass the jar of the Nipple Nibbler around so that each girl can put a little on her finger and then apply it to her nipples WITHOUT flashing anyone.  They just put their hand down their blouse and apply it to each nipple. Definitely brings lots of energy to the pleasure party when women put a stimulating cream on their nipples.
Even though this blog article is about the Nipple Nibbler new lip balm, I also want to share this very interesting article on Nipple Stimulation. Lots of very good stuff in this article about how to handle breasts and nipples well.
Some of the guests feel a cool, tingling sensation. Some feel heat. Some of our guests nipples become erect recently and then some women feel nothing at all. For the women who do not feel the product on their nipples, I suggest they try it on their lips. The nipple nibbler can plump up your lips for a few minutes and you will feel the sort of carmex type tingle on your lips. (Lips on your mouth for all of you with a dirty mind.)
Nipple nibbler is very fun for a hot make out session. You or your partner can also apply nipple nibbler before you have oral sex. It can make oral sex lots of fun and intensify your experience a little bit. It's sublime, but very nice.
So, as an extra SPECIAL Black Friday giveaway, we are going to ship you 1 free Nipple Nibbler Nip-stick free for every item you purchase. Buy 3 items, get 3 Nipple Nibblers. Buy 6 items, get 6 free. We will match your items with a free strawberry or rasberry chapstick and you can use them as Stocking Stuffers. Use the code FRIDAY when you check out between now and Nov. 28th. Our very tasteful online romance store is www.BlissConnection.com and use the coupon code FRIDAY at check out for your super SEXY STOCKING STUFFERS.
And, tell us, have you ever had a Nipple Orgasm?