Everyone loves a little smack on the a** on occasion, right? Why not do it with STYLE!  Cal Exotics sent me this heart shaped crop to review and it made me smile when it arrived, because I already own one.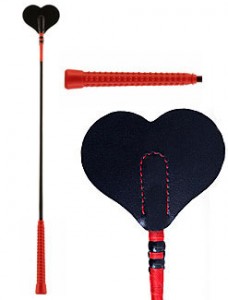 Heart shaped crop
This rubber and leather crop is a 24-inch riding crop that has a red rubber handle with black braided nylon over a plastic shaft topped with a black leather heart shaped topper with red stitching. The handle is covered in comfortable nubs, allowing for a good grip throughout your sessions. This is a sturdy, unique BDSM toy delivers the sweet sting of sexy.
It can just be for playful fun or for extra kinky, naughty fun. It does not have to hurt… unless you want it to.
You can use it for light smacking on your booty, your nipples, his nipples, your upper thighs, your inner thighs, lightly on labia or clitoris. Just play little smacks mostly for that awesome SMACKING sound. Or, if you enjoy a little more intensity, you can amp it up. Just play safe and nice unless you have agreements in place to KINK it way up.
It's a really nice size. It's a great price point at $25. It looks awesome and the little leather heart shape at the top feels sexy and fun and not toooooo scary like some true BDSM gear can be. If you are new to spanking, paddling and kinky play this could be a great place to start.
We do sell it on our website   www.BlissConnection.com and if you like our style, LIKE us on Facebook.   www.Facebook.com/BlissConnection
You can BUY the Cal Exotics Heart Shaped Crop from our online sex toy store BlissConnection.com  and be sure to use the coupon code BLOG for 15% off.
Blissfully, Chrystal Bougon