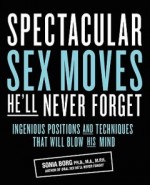 Want to keep your man interested sexually? Dr. Sonia Borg's book suggests that what keeps men interested in sex is CHANGING POSITIONS. Dr. Borg's theory is that men communicate better physically and that women communicate better verbally. We can typically agree with that, right? And she goes on to suggest that maybe women should move into the man's physical "world" by initiating these fun new sexy positions she suggests in her book. It's worth a shot, right?
Dr. Borg is a Clinical Sexologist, Professional Speaker, and Sex Educator and she is the author of some pretty fabulous books. Sonia was on our show last year to tak about her book "Oral Sex She'll Never Forget."  I have only seen two of her books in person, but I can personally vouch they are both lush with beautiful grapchis and super cool drawings that help you to understand the various positions she suggests.
Have you ever heard of the positions "Slinging Dixie", "Dinner for Two" or "Cloud 9″?  Me either! Sonia has these positions and tons more all highlighted in her beautiful new book.
Please tune in this Wednesday, February 8th at 11 a.m. as we talk about some ideas for all of us to have MORE Spectacular Sex."  To hear us live, you can listen at http://www.BlogTalkRadio.com/BlissRadio and you can join us on Facebook at http://www.Facebook.com/BlissConnection
You can also buy Sonia's books on her website http://www.TheHappyEndingsCompany.com if you would like a copy of your own. Her books are delish and you will have a blast reading them together with your partner.
 As a sidebar, we do sell sex toys all over San Jose and all the U.S.  Our online sex toy store is www.BlissConnection.com and we pay the shipping on all purchases over $45. Our website is super tasteful and we always feature better toys for better sex!