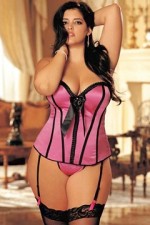 Can you be Sexy at any Size?  HELLS YAH! I am so excited to announce a partnership between Boudoir Photography by Jeanine and BlissConnection.com!  We want to prove to the world that women can be sexy at any size and would love to photograph your sexy self. It's an essay contest and the winners will receive some sexy make up, a sassy up do by Lisa of www.GetHairExtensions.net and beautiful boudoir photographs from Jeanine Brown Boudoir Photography.
(Check out Jeanine's blog about our Sexy at any Size contest. What makes you feel sexy?)
We are looking for 3 to 5 models for a sassy day of pampering, primping and photos. We invite you to send us a blog comment or an email (to blissconnection@gmail.com) describing in 100 – 500 words what makes you feel SEXY. Tell us about you, about your journey and what it is that makes you feel sexy. How do you IGNORE what the media is selling? What has your journey been like? Why would you enjoy receiving a FREE boudoir session and why would you like to be involved in our project? How can you help us inspire other women, young and old, to embrace their inner vision and show the world how SEXY they are.
On April 24th, we will be photographing our WINNERS at Sedusa Studios in Campbell ! We will announce the winners on Monday, April 4th. STAY TUNED.
Please remember that by submitting your blog comment, email or essay you are agreeing to let us use portions of your essay/ comments and your photographs in all of our promotions about this Sexy at Any Size Project. Of course, we want you to be happy with the photographs and will ask for your input once we finish the photo session. But, we do reserve the right to make all of the final decisions about the photographs we settle on for future blog posts. (We will be sure that they are minus any nudity. No wardrobe malfunctions or nip slips! )
Each winner will be treated to hair, make up and a 30 minute photo session with Jeanine Brown and please bring your sexiest lingerie, bras, costumes, props, etc.  I will be happy to lend some of our Bliss lingerie, bustiers and corsets for the photo session, too.
So come on – tell us WHAT MAKES YOU FEEL SEXY? Tell us why we should choose you. We look forward to seeing your sexy selves soon! Have any questions? Feel free to email me at blissconnection@gmail.com