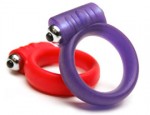 Tantus, Inc. is an innovator in design and function, capturing the science of sensation through anatomically targeted toys designed with safety, quality, and pleasure in mind. Tantus manufactures the world's best soft toys for adults. All Tantus Toys are hand-made from the highest quality 100% Ultra-Premium Platinum Silicone. (This is from the Tantus website www.TantusInc.com)
I am excited to interview Rita, from Tantus, Inc this week on Better Sex Radio. We have been selling the "feeldoe" for years and years at Bliss, but recently I have been hearing good things about the "Realdoe" so I want to talk with Rita and learn all about it.  Tune in this Thursday at 10 a.m. Pacific as I learn all about the new toys from Tantus – they have the most amazing silicone toys!  And, even better, all of their "platinum" silicone toys are made in the U.S..
The superior quality of Tantus Silicone makes all Tantus Toys hypoallergenic, hygienic, phthalate free, odorless, tasteless, boilable, bleachable and even dishwasher safe. These factors combined make Tantus Toys the safest most pleasurable toys on the market.
Tantus has built a reputation as the industry leader through our elevated level of quality and exclusive product designs. Tantus strives to continue delivering the science of sensation, thru innovation, education, and brand reputation.
All Tantus Toys are hand-made in the USA with the utmost pride and craftsmanship. A toy from Tantus is meant to be used and with minimal care, Tantus Toys can last a lifetime.
Don't hesitate to experience the science of sensation, choose Tantus Toys!
Shop our online sex toy store BlissConnection.com and we do Pleasure Parties all over the Bay Area, too.
Like us on Facebook at www.Facebook.com/BlissConnection