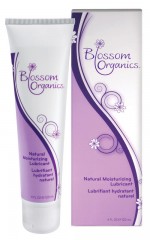 Some of you have probably heard me get on my soap box about all of the really crummy ingredients some of the lube companies put in their lubricants. It really gets my feathers ruffled! I mean – hellooooo! We are putting this lube inside of our vaginas people. I could go on for hours about the negative stuff, but I choose to focus on the positive and teach my fans and customers about BODY SAFE products that are healthy and 100% safe. (And, if you have an opinion about lube, please share it on my Bliss fan page this week so we can incoporate it into our show. Bliss on Facebook.)
I am excited to introduce you all to Blossom Organics.  And check this out. Blossom Organics also makes a sensual cream that can turn your monthly breast exam into something that does not have to be 100% clinical. What a great idea. And, in honor of breast cancer awareness month – they are donating to the Breast Cancer Fund when their customers purchase this cream. Now that is brilliant.
The below information is from Blossom-Organics.com. Tune in this Wednesday the 26th at 11 a.m. Pacific as we talk lube and boobs!  www.BlogTalkRadio.com/BlissRadio
For over 20 years, Blossom Organics Founder, Melissa Jochim, has successfully developed safe, naturally pure organic skincare products for known and trusted brands. Expanding from her initial focus in skincare, she was shocked to see the lack of authentically natural, female-friendly products in the intimate care market. Although many products claim to be "natural," "organic" and "safe," Melissa's passion drove her to achieve a higher standard through the formulation of Blossom Organics Intimate Care Collection.
In pursuit of healthy well-being, beautiful intimacy and blissful pleasure, Blossom Organics creates safe, naturally pure intimate care products. Melissa's story resonates with so many mindful women that we at Blossom Organics want everyone to experience the pure pleasure of allowing their sensuality to blossom.
http://www.blossom-organics.com/
We have chosen to demonstrate its support of the Breast Cancer Fund's ground breaking work by creating Revitalizing Breast Cream. We donate $5 from every purchase of its Revitalizing Breast Cream to the Breast Cancer Fund. In recognition of the Peak Hike and the upcoming Breast Cancer Awareness Month, Blossom Organics is sponsoring special discounted pricing for its Revitalizing Breast Cream at select retailers for the month of October.
http://www.blossom-organics.com/intimate-care-collection/revitalizing-breast-exam-cream/
www.breastcancerfund.org