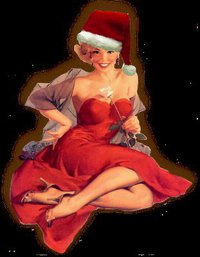 It's that time of year again! It's "Santa Baby" time and this year we are doing it with a Burlesque theme. We will have a Burlesque dance demo courtesy of one of the dancers from Sedusa Studios. This event is taking place on Dec. 18th from 3 to 5:30 on December 18th. (Sedusa is at 1300 Dell Ave, Campbell, CA  95008)
We are looking for vendors who would be interested in being one of 12 vendors at this event. It's $60 for a vendor table and you will need to bring your own table. (You can bring a 6′ table and a chair. Or you can bring two racks.)
We are looking for jewelry, make up, candles, kitchen items, perfume, make up artists, massage therapists, wine vendors, food vendors, artists, skin care, clothing vendors, hair dressers, nail technicians, and any other kind of vendor that sells a product that appeals to women. (Skin care spots  / make up are taken already. We also have a Miche bag, Avon, Pampered Chef already on board.)
This event will be women only – except we will have Santa there, too. Take a pic with our Sexy Santa for just $5.00. You can take the pic home that day, too.
Jeanine Brown of www.JBrownPhotography.com will be setting up her boudoir photo studio and selling her boudior sittings for $75. She will be set up in the pilates studio so you have lots of privacy.
We will have a margarita machine, light nibbles and lots of wine and soft drinks available, too.
Tickets for our guests to attend will be $5.00 and all of our guests that pay up front will also get 1 free Raffle Ticket when they register. It will be $10 at the door and then raffle tickets can be purchased for $5.00 at the event.
All raffle ticket proceeds and money we collect for the tickets to attend are all going to "One Warm Coat" and we will also be a collection site for our guests who want to donate a coat to "One Warm Coat."
The event for the public will be from 3pm to 5:30. Vendors can set up at 2pm. Remember to bring your own table and chair in case you want to sit during the day. Vendors can enjoy all of the refreshments. Vendors are also invited to donate a RAFFLE prize – but this is totally optional. If you want to donate a raffle prize, please bring it the day of the event. The value should be about $50 retail value.
And questions, please call me at 408 712 3809 or email me at blissconnection@gmail.com for more information.
Last year's event was a huge success. The vendor tables will sell out quickly, so please RSVP and pay for your vendor table as soon as possible. We will only allow 1 person per company and 2 vendors per industry. So, we would never allow two tupperware vendors because we want this to be financially fruitful for you. But, we would allow a Tupperware and a Rubber Maid vendor for example. (Just made that up, btw.)
I hope you will join us. Jeanine will make us a very special and Sassy burlesque style flyer we can all use to promote the event. I will also create a FB event so all vendors can SHARE and TWEET the event. We want to meet your network, friends and family – so please ONLY sign up for this if you also have time to promote it. We rely on each o us to promote this event to make this a huge success.
We had so much fun last year and the year before, too! I hope you can join us either as a vendor or come and join us for the DAY OFF from holiday shopping. Bring a friend, have some wine and enjoy a little respite from your family and the mall!
Blissfully,
Chrystal