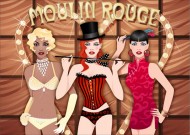 Have you heard of "Mr. Burlesque" – the world famous Burlesque star and instructor, Rodney James? He was a lead dancer in the "Moulin Rouge" movie!  Well he is coming to Sedusa in August and you won't want to miss this! Sedusa Studios in Campbell is hosting a Burlesque challenge and has all kinds of saucy, sassy fun planned while Mr. Burlesque is in town! This is your chance to dance and have fun with Rodney and the Sedusa instructors.
Guest Burlesque instructor- Aug 22 & 23
Sunday Aug 22, 3-4:30pm-Burlesque Chair Challenge
Sunday Aug 22, 5:00-6:30pm Burlesque Dance Class Party time-come all dressed up to the hilts if you like! Pumps, fishnets, (no boas) corsets etc. Vamp it up and if you need some sexy dresses, skirts, stockings or shoes you can also shop at the Sedusa lingerie and shoe boutique! Mention Bliss for $20 of your sexy shoes.
Monday Aug 23, 10-11:30am-Burlesque Chair Challenge
Monday Aug 23, 5:00-6:30am Burlesque Beat (learn to walk and Move like a Rodney's Girl)
You can tell a Rodney girl by the way she walks into the room!!!
Rodney has been fortunate enough to have been involved in almost every event in the last 15 years that has increased the profile and standard of dance in theatre and live events in Australia. He has appeared with many of our top performing artists, including touring with Kylie Minogue many times throughout the country, as well as appearing in concerts by Marcia Hines and Belinda Carlisle, amongst others.
Making the transition into film, Rodney featured as a dancer in Baz Lurhman's film, "Moulin Rouge", and was selected to join Caroline O'Connor in New York and at the Cannes Film Festival to launch the film internationally.
Burlesque Beat™ Intensive Masterclass (90 mins)
A master class designed for all girls of any level and also a great class for pole dancers. Rodney James aka Mister Burlesque will focus on his signature walk. This powerful walk technique delivers impact on the way you walk. Sexy and edgy, this unique formula will prepare women to be and fierce whilst focusing on core, strength and poise enhancing your burlesque and pole skills
Chair Challenge (optional if you have chairs available)
There's a man in there and a chair as well. There will be lots of girls, with great stories to tell. This class will begin with a great warm-up to improve strength in both the upper and lower body. The class will focus on developing core stability. Learn great choreography based on the chair. Get ready to tone your arms whilst sculpting your ass-et! It's a great workout!
Burlesque Dance Party Class. Come all dressed up to the hilts if you like! Pumps, fishnets, (no boas) corsets etc. This is a new class, Rodney has added, because of it success. Costumes are a part of dance and make you dance and move differently. Enjoy a beverage after and chat.
The workshop is now 90 minutes instead of 60min.
Cost: $35 Sedusa students $50 non students. Space is limited, so email Sedusa@SedusaStudios.com right away to reserve your spot at this Extra Special Event. Invite your girlfriends, dress up and have fun!
Become a FAN of Sedusa on Facebook.  Facebook.com/SedusaFans  or become a fan of BlissConnection and BlissRadio on Facebook at  Facebook.com/BlissConnection