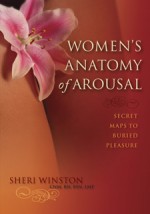 Ready to become an erotic virtuoso? I am! Join me and author Sheri Winston on Better Sex radio this Wednesday, August 11th on Better Sex Radio at 11 a.m. Pacific as we stream live.  TUNE IN TO BETTER SEX RADIO HERE
You'd think that in this Age of Information, we'd know everything there is to know about female body parts and sex. It's not the case, though. Women, their lovers, and even medical professionals are missing essential information about how to turn a woman on … completely. This lack of information and awareness leads to: 
Disinterest in Sex
Frustration, resentment
Unhappy Relationships, Infidelity, and even Divorce 
In her groundbreaking book, Women's Anatomy of Arousal: Secret Maps to Buried Pleasures, medical professional and celebrated sex teacher Sheri Winston presents the first-ever comprehensive, accurate, integrated picture of women's anatomy and sexuality.
 Women's Anatomy of Arousal is a fun and sexy guide that combines lost knowledge with ancient and modern sexuality information, and illuminates every woman's secret paths to fabulous, abundant sex. Section One is: Maps, Models and Mistakes; Section Two: Journey to the Origin of the World; Section Three is Becoming an Erotic Virtuoso! Winston's background includes over twenty years as a certified nurse-midwife, gynecology practitioner, a registered nurse, and student of the ancient erotic traditions. Over the years, she has developed her own unique approach to sexuality education, called Wholistic Sexuality™, which integrates common and obscure information from modern science, specialized holistic healing know-how and esoteric sexual practices.
 Women's Anatomy of Arousal, which is Winston's first book, has received rave reviews. It has been called "the best book I've ever read about women's sexuality" (Pat Parisi, sex therapist) and a "one-of-a-kind revolutionary new book" (Dr. Patricia Taylor, author, Expanded Orgasm).
 Sheri Winston's Center for the Intimate Arts, of which she is the executive director, empowers men and women to have better intimate relationships and sex lives by offering a variety of educational and other products and services. Additional info can we found at www.IntimateArtsCenter.com