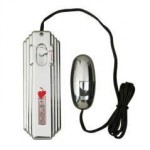 5 Speed Bullet
You may know this, but the 5 speed bullet is my ALL time favorite toy. It's a fabulous vibe for fun alone or fun with your partner. It's about the same size as the regular bullet, but this one has a 9v battery and it pulses and escalates!
If you spend $60 today, on Cyber Monday use the code cyber5 and we will add a Free 5 Speed Bullet to your shipment. And, we offer free shipping on purchases over $45, too!
Our romance toy website is www.BlissConnection.com and use the code cyber5 to your cart when you check out and enjoy this YUMMY bullet! It's normally $38. Here is my review of my all time favorite sex toy!
http://bliss-radio.com/5-speed-bullet/
and we have lots of other customers, cam girls and other women who love this 5 speed bullet, too. Here is a review from Alpha Harlot, too!  http://alphaharlot.com/5-speed-bullet-toy-review/
I rave about this bullet all of the time and I own almost every sex toy known to man! Or, if you prefer, just use the code cyber15 for 15% off and skip the free 5 speed bullet offer. Use the code cyber15 and spend more then $60 and we will give you 15% off  your entire purchase and free shipping on purchases over $45.
Also, I own another business called Curvy Girl Lingerie. It's my plus size lingerie store in San Jose. I also created a blog there with our plus size lingerie store online cyber Monday deals. You can check those out here, too.
http://curvygirlinc.com/cyber-monday/
Come join us on facebook. Our sex toy and pleasure party business is at www.facebook.com/blissconnection and  our curvy girl lingerie store is at  www.facebook.com/curvygirlinc
Sincerely, Chrystal Bougon