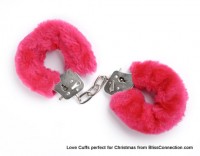 Who does that? Who buys sex toys as Christmas gifts or Hanukkah gifts? You might be surprised… many thousands of people do! Have you been naughty or nice this year? Wouldn't you just be super duper excited if someone bought you a sex toy for Christmas? I know I would.
Everyone loves a great lover, right? And everyone loves a great deal. So, this blog is all about some fun ideas for Stocking Stuffers for your Secret (or not so secret) Santa or Mrs. Claus… or maybe for Santa's little helpers.
In case you do not want to read my entire blog and you are itching to go and buy a sex toy for your lover – our Cyber Monday coupon code is Monday2 – just put that in at the end of the order process and it will give you 20% off and free shipping on purchases over $45.
For starters, the Fuzzy Love Cuffs make a naughty gift for thatpecial someone you want to get naughty with. Nothing says I LOVE YOU like some light S&M gear.
Maybe you want to buy a NICE gift for your naughty little elf. You can buy your sweetie a rabbit or bullet to show how much you really care about thier sexual pleasure. My all time favorite bullet ever is the 5 Speed Bullet. And, my second favorite toy ever is the Original Pearl Rabbit from Vibratex. (This is the rabbit that was made famous by that now infamous episode of "Sex & The City" on HBO. I guarantee this will make for THE BEST post Christmas sex you have ever had. She will want to show her appreciation for your generosity.
At our home pleasure parties, I often hear women buying some of the more polite products for the standard bullet for the close girlfriends. You B.F.F. will go a back flip when she opens her especially sexy silver bullet or the edible massage oil you bought her.
The chocolate body frosting from Kama Sutra and the Dirty Dice make great stocking stuffers. So do the blow job vouchers and the doggy style strap.
What about pairing the edible massage oil with a hand made erotic massage coupon? I can imagine everyone I know would LOVE to receive that gift.
Check out our online store www.BlissConnection.com and see if soemthing sexy inspires you. Spend $45 an we pay the ground shipping. Want to connect with us on Facebook?  You can find us on Facebook at www.Facebook.com/BlissConnection and on Twitter @BlissConnection
Happy Holidays and HO HO HO!
Blissfully, Chrystal
Sex Toy Expert / Chief Toy Officer for BlissConnection.com