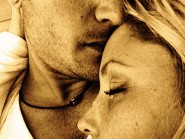 Are you holding back in the bedroom? What is it going to take for you to finally just surrender and let go?
Are you waiting to lose that last 10 lbs or baby fat? Are you waiting until you finally start going to yoga three times a week or running 10 miles a week? Are you waiting for those stretch marks to go away or are you waiting until you go and get that long over due pedicure?
Stop waiting! It's time. SURRENDER! Let go. Leave it all somewhere safe – I promise the negative self talk and all of the doubt will wait. Lock it up and put it somewhere and let your hair down, girl! Having a great sex life means you have to stop doubting yourself and stop picking yourself apart. I promise if he has an erection, he is likely not noticing your saggy breasts or your cellulite!
One of the keys to having a great sex life is letting go of all of that negative self talk. And, stop comparing yourself to other women or other couples. You are you! Only you can do what you do the way you do it. You are your own special sauce. If he was not into something about you he probably would not be in a bed with you. Right?
Ok, so now go find those panties, lingerie or costume and go put it on. ROCK HIS WORLD. People remember how you make them feel not how you looked while doing it. SERIOUSLY. You know all of this already. Why aren't you practicing it? Why are you holding back and being a "good girl" in the bedroom? Stop letting the media and all of that crap you brought up learning about what a lady does or does not do. I am not suggesting you let your class go out the window. You can be classy and dirty at the same time. FOR REAL!
Sex is such a fabulous way to stay connected to your partner. I know for me, when I feel like I could possibly commit a homicidal act against my partner and I want to wring his neck – I just take a deep breath and remember "this too shall pass."  And, I find that when we make up and get back together in bed it reminds me how much I actually really do like him.
As one of my good friends says "stop buying what the media is selling" and remember that for every man that loves a size 2 there is an equal amount of men who love a size 22. For every man who loves DDD breasts there are an equal amount of men who love an A cup. (Yes, some men DO NOT like super big boobs. Seriously. They are turned off by them. No joke!)
I know I say it a lot, but you are PERFECT exactly the way you are. Especially when you believe that and LOVE yourself for exactly how you look RIGHT NOW. And, when you have that kind of confidence in the bedroom and you just stay in the moment and surrender to the act – you both will go places you have never been before.
If you are already fabulous at all of this kind of stuff and you know how to help us all to let go of the crap that the media and society brainwashes us into believing – please share your tips and tactics here. We're all a work in progress and I know I can sometimes doubt myself, too. (Especially the 2 days leading up to my cycle.)  So, we all need a reminder.
My goal is that every time you worry about dimming the lights or  you get too nervous to wear that new vinyl skirt or that skimpy thong for him – you hear my voice in your head saying to you "GO FOR IT. YOU ARE PERFECT! GET GREEDY! Go rock his world!"
Blissfully,
Chrystal Bougon
www.Facebook.com/BlissConnection
My passion is your passion. I am the Chief Toy Officer for www.BlissConnection.com and I love to help women and couples to have mind blowing sex!