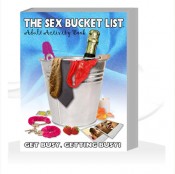 Do you have a list of things you would like to try sexually? Maybe sex in an elevator or in a dressing room? How about sex with a celebrity or sex with a stranger? Do you want to try a sex swing or have a threesome? (If you need a sex swing for your bucket list, please shop our online store www.BlissConnection.com  )
Where is the craziest place you've ever had sex?
I'm very excited to interview Michael Lucente, creator of the Sex Bucket List activity book. Check out the Sex Bucket List's website and you can order one of his activity  books for $19.99 on his site, too. Just in time for Christmas!
We all have a bucket list, right? And most of us have a sex bucket list – even if we're not willing to admit it. Does your love life need a shot in the arm? Whose doesn't? This could give you and your partner some ideas you never thought of!
Sex on the golf links anyone? How about sex in the movie theatre? How about sex in Lake Tahoe (that's on my bucket list!)  You can tune in live on Wednesday at 11 a.m. and listen to our live show on www.BlogTalkRadio.com/BlissRadio  or later hear the podcast of our show on www.BlissoniTunes.com !
Tell us what is on your sex bucket list! Please leave your ideas on our blog here!
Blissfully, Chrystal   www.Facebook.com/BlissConnection and our online sex toy store is www.BlissConnection.com