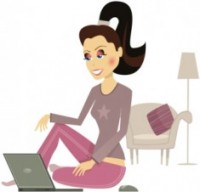 Mom's Night Out – WOOT ! It's summer time, I know you need a break from your kids. (And maybe your husband, too.)  Book a Bliss Pleasure Party and let us pamper you and your friends – we promise hours of giggling and fun. Guaranteed. I have never been to a Pleasure Party that wasn't fun.
Sometimes women feel a little timid about booking a pleasure party and inviting their "Mom" friends. They worry that the other Mom's are going to think they are freaks and sex crazed MILF's. And, well, they might be. But, everytime a Mom's group approaches me or calls me up to ask a few questions, right away I tell them they will be VERY surprised by how many Mom's will show up to their pleasure party. Normally, they are all just waiting for that one brave Mom to start it off.
There is nothing scary at our Pleasure Parties. (Well, not that scary, I promise.)  We never embarass anyone or call them out. We do not force them to do anything embarassing and we even set up our Mobile Sex Toy Store in a private room, so all shopping and browsing is totally private.
Our pleasure parties are very sassy, but educational. Your husband and baby Daddy will be beside himself with excitement when you book one or go to one. It's not like telling your husband you are going to a jewelry party. You will see a little twinkle in their eye you may have not seen in a looooooooooooong time. (Unfortunately for them, our parties do not end in a lesbian orgy with dildos but we can just let them think it does. ) You may even hear something like this from him "yes, honey, please book a pleasure party. I will feed the kids and take them to the movies so you can have the house to yourself for a few hours. Do you need some money?"
Our parties include an ice breaker game and we bring fun prizes for the game. (Normally a tongue dinger or a hum dinger.) Our presentation is about 50 items and, like all great sex, we start with a little foreplay and warm you and your friends up with our oils, potions, books, edibles and kama sutra. We do invite the ladies to try the arousal balm in the bathroom PRIVATELY on the break. Then we have everyone refresh their glass of wine and then come back for the POWER TOOLS presentation.
Once the presentation is done, we go back in the private room where have the store set up and invite your friends to come back in the room to shop privately. We even double bag so no one knows what anyone else buys. And, we never share that info with our hostesses or anyone else. We try real hard to forget what you bought in case we run into you at Valley Fair or Oakridge Mall.
It's time to PAMPER yourself. We know you are always looking after the kids, the house, your job, your husband, your parents, your pets, etc.  Don't' you deserve a night for yourself? I am pretty sure you will be a better Mom, a better wife and everything else will feel better if you spend one night out only thinking about you – and maybe thinking of your sensual and sexual well being. Pamper the lover in you.
Want to learn more about us? Check out our Facebook Fan / Like Page here: www.Facebook.com/BlissConnection
Browse our online sex toy store  www.BlissConnection.com and our party website is www.blisspartiesinc.com or tune into our weekly radio show at www.bliss-radio.com
To book your party, call us at 408-826-9087