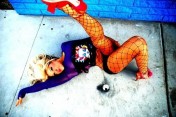 Of course you're NOT!
I am excited to invite Dallas Lowe of NaughtyAmericans.com back to Better Sex Radio today to talk about her latest blog "How Not to be Your Own Cock Blocker."
I love the underlying message here and I can't wait to talk with Dallas about her opinions on the fact that all of us find CONFIDENCE super sexy. I love this excerpt from her blog about other people's opinion of us:
"People's opinions of us are comprised of three things:

What they observe about us first-hand

What we say about ourselves

What others say about us

We really have control of most of these things."
If you are single and hoping to meet women or men – you have to have the confidence in yourself before anyone else will be interested. You have to LOVE yourself in order for someone else to LOVE you. (And as Dallas suggests, leading with all of your faults is just bad form!)
If we have time, I also want to chat with Dallas about her blog :
In case you are not familiar with NaughtyAmericans.com, it's a super sexy and cool website where Ms. Dallas Lowe herself goes from city to city interviewing women about their sexual fantasies. They have tons of videos of women from New Orleans, San Diego, San Francisco, New York, Miami and Texas and Dallas just walks up to these women in the street and asks them for an interview. It's sexy, fun and eye opening. Just regular women talking about what turns them on.  www.NaughtyAmericans.com  if you want to check out some of her interviews.
Tune in today at 11 a.m. Pacific on www.BlogTalkRadio.com/Bliss-Radio as we catch up with Dallas.
Friend us on Facebook  –  Bliss On Facebook   and you can also find Naughty Americans and Dallas on Facebook at www.Facebook.com/NADallas