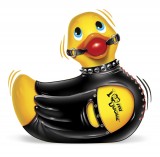 What do you do when your sex life gets into a bit of a funk? This is part 2 of a blog we shared that started with a husband and wife who use to enjoy a very kinky sex life, but it's gotten very vanilla. The husband wrote a note on one of Midori's Yahoo Forums. These ideas are from "GeekyButSexy" and he allowed us to share his ideas for the couple here. Thank you "Geeky."
Part 1  (Ideas 1 – 3 here) :  http://bliss-radio.com/kinky-sex/
4. Prepare a *surprise* kinky sex date. Pick a time when she is free
and she thinks you are busy, and announce the date instead. If you are
the dominant one, and have a D/s arrangement that allows this, pick
something that fits your agreements and surprise her with that.
This can be anything from showing up when she's home and thinks you are at
work, and you show up as the "plumber" who then "seduces" the "lonely
housewife", or announcing that you don't have to be up early in the
morning after all, and that she has been naughty and needs to be
"punished".
If she is the dominant one, she can do the same. Or, the
submissive one can announce that they have been naughty and should be
punished, or since you mentioned brat play, can try to claim to be the
dominant one and attempt to top the other until they get "put in their
place" (or you switch for the evening).
5. Do something completely off the wall and/or utterly silly, just to
get past the "hump" of having to come up with something. There was a
woman who had a similar personal problem, but more severe. Her
upbringing had made her shy violently away from anything but the most
passive of sex. She would panic if she tried to think about anything
she might do to change it, like give her husband a blowjob.
So, her therapist told her to think, not of something she "might" do, but
rather of something that she would never, ever do. She found she
*could* think about those things… and that night her husband had the
door opened by his wife wearing nothing but cellophane.
So, brainstorm. No idea too weird. Try something completely silly, or
just something that you have never really considered before, just to
get out of the rut. I could think of a dozen things, but you might be
able to do better. Or you could give us a better idea of what you do
and don't do, and we could make suggestions. It doesn't have to be
something you *want* to do so much as something that is completely
different that what you have been doing in the past.
Whether she drops her brattyness and goes hard core slave submissive for the evening, or
you dress as a pirate and she wears a peasant blouse and an accessible
skirt, or you try to find out how long you can do continuous anal, or
you switch for an evening, or you cover a room in plastic and try to
f*ck her while she is completely covered in oil, it doesn't matter.
Just do something *different*, the more different or silly the better.
And "GeekyButSexy" ends with this:
"One caveat. I am a poly swinger, and I still *firmly* recommend the
something "off the wall" *not* be "invite others into the bedroom"
unless you are quite certain you want to go there. There is almost
nothing else you can do that is as likely to screw things up unless
you both agree that this is something you do, in fact, want to try. If
you decide to try two hours of continuous anal and it goes wrong, you
chalk it up to experience, but if you try to swing and it goes wrong,
you can break your marriage clean in two. If you already do that, or
are *sure* you want to, you can possibly incorporate that into your
plans."    (Back to Part 1 of this article here.)
WOW! Pretty comprehensive list don't you think. Have any other ideas about how to KINK up your own sex life while helping your partner stay inside their comfort zone. (Or maybe just push them out of it gently a tiny little bit?)
We'd love to connect with you on Facebook.  Bliss On Facebook .