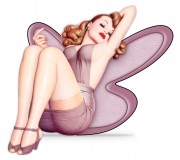 December 1st was our Sex Toy website's  4th birthday. BlissConnection.com turned 4 yesterday! Happy Birthday to Bliss!
I was just reflecting on the past 4 years of pleasure parties, sex toys, new customers, old customers, classes, seminars, radio shows and all of our sexy Facebook Fans and Friends.
It's really all of YOU that we are celebrating. Thank you for all of your support, love, advice, guidance, horniness, sexiness, gratitude, honesty, sense of humor, and everything else. We do this for you and it gives me (and my team) so much joy when I hear from you about the great experiences you had or have with BlissConnection.
I love to say that I want to elevate the concept of great sex. I feel so strongly that there is NO SHAME in enjoying a great sex life and being a fully realized sexual being. Embrace it. We ALL got here the same way. Everone does it. Let's create a space and a dialogue where we can be unapologetic about something that is totally human and beautiful. And, beautiful comes in many forms as we all know. Same with sex. If you are super shy, tenuous, kinky, freaky, private, sexy, sassy, or wild – I think you are all beautiful! And you have all been so generous to Bliss.
THANK YOU! From the bottom of my heart – thank you for the past 4 years of Bliss. If we brightened your day a little bit or helped to improve things in your bedroom – then we are tickled pink!
We'd love to count you as a fan on Facebook.  www.Facebook.com/BlissConnection