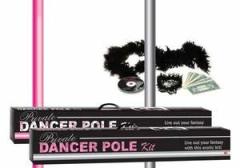 Stripper poles are a fun sex toy and an incredible way to create a super-sexy atmosphere in your bedroom, plus you can get an awesome workout with them too! They're more popular than ever, popping up all over TV and in the magazines – even on Oprah. A stripper pole can help you be that sexy, erotic woman you know you are inside. And if your sex life is getting a little boring, I promise you'll love the way a home stripper pole can spice things up.
One of our Bliss Connection favorites is the Private Dancer Pole Kit from TLC. One of the great things about this pole is that it can be installed in rooms with ceilings from 7'4" all the way up to 9'2" so it fits in most people's homes. It's a portable stripper pole, so you can put it up and take it down whenever you need to. Mother-in-law coming for a visit? You might want to hide the stripper pole – or be ready to explain how you've been entertaining her darling son!
The Private Dancer is made from pretty heavy duty steel, so it's built to last. It comes with non-slip pads to protect your floors and ceilings, plus complete installation instructions. While you can install it using just compression, we highly recommend using the screws to install it more safely. You don't want the pole to come crashing down mid-performance, even if it's just for an audience of one!
Another fun thing about the Private Dancer is that it comes with an erotic dance instructional DVD, so you can learn all sorts of new moves. If you want to take it a step further, think about signing up for a private pole dance lesson, or take lessons with a few friends! That's a Girls Night Out that your guys would encourage! Here in the Bay Area you can check out Sedusa Studios for classes in pole dancing, exotic dancing, and more. It's an amazing dance studio that is designed to help women feel empowered, beautiful and to get in touch with their inner dancer.
How surprised (and turned on) would your guy be to come home and find you ready to put on an erotic dance show with your private stripper pole? The Private Dancer would also be an amazing gift – for you or for him. You'll feel sexier than ever, making fantasy a reality right in your own bedroom.
Check out stripper poles from Bliss Connection now.
If you like our style, you can also LIKE us on Facebook. www.Facebook.com/BlissConnection