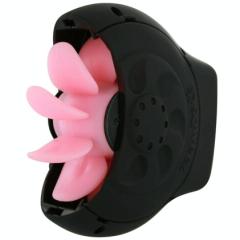 At blissconnection.com we know that sex toys are not one size fits all: different women have different desires. And one of the most common desires, oral stimulation, has never been available in a toy – until now. The Sqweel is the first toy of it's kind, designed to be one of the world's most realistic oral sex simulators.
When it comes to sex toys, the Sqweel is different from anything you've ever tried before because it doesn't vibrate, thrust, pulse or tingle. Instead the rotating silicone tongues mimic the sensation of oral sex. Each soft, velvety, sensuous pink tongue on the rotating wheel stimulates you perfectly by flicking gently across your clit.
We all know that one tongue is good, but with the help of the Sqweel, you'll soon learn that ten tongues are even better. The Sqweel's ten tongues have three speed settings and two directional settings. The brand new Sqweel 2 has all these settings in addition to a "flicker" setting that rocks back and forth, plus it has interchangeable tongues for even more amazing sensations.
Here are some reviews from satisfied customers:
"The Sqweel works well. I was, uh, done in two minutes flat, and in terms of orgasm strength, allow me to get a little cerebral. You know how orgasms during oral sex feel a little different than, say, orgasms during sex or with a vibrator? …An orgasm with the Sqweel feels more like one you have during oral sex…" –Amelia
"The silicone 'petals' felt so luxurious. Although it was going at a fast speed rotation the petals felt soft and yet had fullness to them, almost like a real tongue."-Eddy
The Sqweel is great for solo or couples play. Consider inviting the Sqweel into your couple's routine: use it during oral sex to vary the sensations with a real tongue, or hold it against your clit during penetration to relish the feeling of oral sex while having intercourse. No matter when you use it, you'll love it's velvety sensation.
Check out more sex toys from Bliss now.
If you like our style, you can also LIKE us on Facebook. www.Facebook.com/BlissConnection