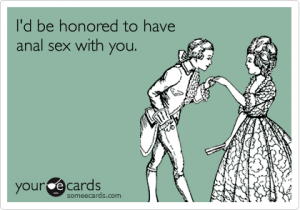 Yah, I know, it's not August yet.  But, this topic keeps coming up at our store Curvy Girl Lingerie and all over the Facebook pages I belong to, so I thought I would repost an oldie but a goodie.
9 Tips for Pain Free Anal Sex  (link is here)
As many of you know already, I have been educating and entertaining adults all over the Bay Area about how to incorporate sex toys into your sex life.  Almost 2 years ago, I also opened the FIRST EVER Plus Size Lingerie store here in San Jose, CA.
The topic of SEX comes up every single day. That happens when you sell lingerie and a few romance toys.  I wanted to share my Anal Sex tips with all of you and make it easier to find, because this topic comes up constantly.
There is a reason anal play feels so good. We were all born with approximately 6,000 nerve endings around our anus.  That's a lot of pleasure ladies and gents!
Here is the link again to 9 tips for pain free anal sex.
If you haven't joined in the fun, be sure to come and LIKE our Curvy Girl Lingerie Facebook page.   http://www.facebook.com/curvygirlinc  you will love the conversations we have there.
Sincerely, Chrystal Bougon
www.Shop.CurvyGirlInc.com  is our online store for our plus size lingerie.
www.CurvyGirlInc.com is our blog for our plus size lingerie store in San Jose, CA