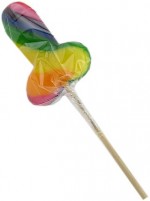 There is a FAB sex toy store in Santa Cruz called Pure Pleasure Shop that I just love and adore! And, they have some fantastic seminars at their store. I attended their "deep throating" seminar last week and wanted to share some of the techniques we were taught.  Their lovely employee Lollie taught the class – hence the cute title "Lollie-gagging." Super clever. I highly recommend ALL of their classes, but be sure to register for Lollie's next class.
I know from personal experience that it is a challenge to teach something like this in a classy and educational way. It's not easy being classy and serious when you are talking about a big dildo and blow job techniques in a class room setting. But, Lollie did it and then some! She was super professional, full of awesome information and tips. (And, I am teaching a blow job class here in Los Gatos on June 10th if you want to attend.)
Deep throating is very deep ORAL sex. And, typically, it's a technique you would throw into a very gourmet blow job you are giving your lover. As I love to remind everyone, we are just NORMAL women. We are not GOLD MEDAL ATHLETES of SEX like porn stars are. Most of us cannot deep throat for the entire blow job. We are human. We have to breathe. 🙂 And, officially (sort of) Deep Throating means that the penis goes past your uvula and past your gag reflex.
5 Tips for Deep Throating (Oral sex tips)
1. Your male partner should be EXTREMELY positive, complimentary, encouraging and patient with you as you are attempting this type of oral sex. I also highly recommend that the person who owns the penis should be SUPER expressive towards you and grateful and telling you verbally how good it feels. A girl needs some extra encouragement when attempting to lavish such oral worship on your penis, guys.
2. For the person giving the blow job or attempting the deep throating (this could be a guy or a girl) you have to be able to see it happening. You have to be able to envision the penis going past your uvula and into your throat… you have to WANT IT. The person who owns the penis wanting it is not enough. The giver has to really be able to imagine in happening in your mind.  Once you can imagine it happening, your odds are much better.
3. As Lollie taught us, sticking your tongue out while the penis is deep in your throat actually frees up a lot of space in your mouth. The tongue is pretty huge actually. And, we all know how strong the tongue is. But, while the penis is deep in your mouth stick your tongue way out and move it around to try to lick the base of the penis or sort of like try to lick his testicles while the penis is in your mouth. It's amazing how your throat relaxes and there is more space back there.
4. Humm along and give him a hummer. YES. Humming helps. And, if you humm in a deep voice the vibration actually feels pretty good to him, too. But the humming can relax your throat a bit, too. Lollie was humming Rhianna's "Shut Up and Drive" for us. I think that is a perfect song for this special hummer.
5. When you start to feel your gag reflex coming up, SWALLOW. And, no, I don't mean that kind of swallow. This is way before he is ready to ejaculate. Just as you are giving him a b.j. and you are starting to incorporate a DEEP move … as you feel the gag reflex coming… slow down, take a deep breath and swallow. It makes the gag reflex go away.
Some other tips Lollie shared with us were things like how using toys and your fingers on the back of your throat can help you to get better at giving deep oral sex. I also LOVE that Lollie kept reminding us that NO ONE should ever force you to give oral sex. And, it's a GIFT. It is not required. You should never do anything you do not want to do. And, if you try it and you don't like it – well that is the end of that.
Breathing helps everything, too. Deep breathing makes your orgasms more intense. And deep breathing helps to relax your throat, too. We often start breathing in a very shallow way when we are excited. But, if you and your lover can remind each other to take a deep breath you will notice very satisying orgasms that will blow you away. And, I personally find it VERY hot when my lover reminds me to breathe. aaaaaaaaaaaaaaaaaaaaaaaaaaahhhhhhhhhhhhhhhhhhhh
For more blow job techniques and to learn how to give a Gourmet Blow Job and how to give an Efficient Blow Job, register for my upcoming Blow Job worshop on June 10th. Just $35 and you get your very own suction cup dildo and flavored condom to take home with you and practice on at the seminar. We will have some light nibbles and wine, too.  Register for our blow job class on June 10th in Los Gatos / Campbell.
I also have a 14 page Blow Job ebook for $4.99 you can purchase, too, if you are too shy to come to my seminar or if you are not in the San Jose Bay Area.  Here is the link to my blow job ebook and if you order it, I will also throw in a bonus and send you our naughty cocktail recipes, too.