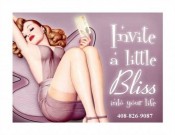 Blow jobs, penis rings, deep throating and more all covered in my 14 page e-book. The reality is that some days we have time to give the gourmet b.j. and other times we don't. I know guys hate to hear the words "efficient" and "b.j." in the same sentence. But, I like to say to men, isn't it better to receive an efficient b.j. then NO b.j.?  
BUY BLISS E-BOOK HERE
So, we gathered all of our best tips from all of our pleasure parties and our own personal experience and created a 14 page book full of tips for giving a gourmet blow job and an efficient blow job, too.
We also cover all of the Penis Ring 101 basics and teach you how to prep "the area" for a penis ring. We even included some techniques for giving deep oral sex. I wrote this e-book with lots of love and with fun in mind. Sex is supposed to be fun! Oral sex, too.
We are offering a full money back guarantee with our e-book, too. If you are not 100% satisfied, we are happy to refund your $4.99. Just send us an email and let us know you are not happy with it or did not learn anything new. We want you to be happy.
Bring more Bliss to your Bedroom. If you "like" our style, then please "LIKE" us on Facebook, too.  www.Facebook.com/BlissConnection  or follow us on Twitter @BlissConnection.