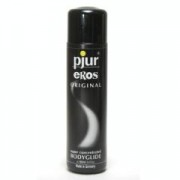 15 Reasons we LOVE the Eros Lube – Pjur Bodyglide
1. Never gets dry or sticky – ever. (We have written about this lube before and we called it "possibly the best lube ever" and you can read our blog about the Eros Lube here.)
2. No preservatives
3. No fragrance
4. No flavor
5. No glycerin – which means it's SUPER for women with sensitivities. (Buy EROS here.)
6. Great for sex under water – fun in the hot tub or the shower (keeps everything slick under water!).
7.  Super female friendly and if you use it for sex at night, when you wake up in the morning for some morning sex, you may not have to reapply.
8. Perfect for anal sex – you can read our blog about 9 Tips for Pain Free Anal Sex here.
9. Great for massage – little tiny drop goes a LONG way!
10. Fun for putting on your skin for a human slip and slide action
11.  Looks beautiful on body art
12. Can put it in your hair like biosilk or have a nice shiny landing strip
13.  Fantastic skin moisturizer – great for ashey elbows, feet and knees.
14. Condom compatible (in fact many condoms have silicone lube inside them to make a more skin tight fit and give the person wearing it more sensation).
15. Great with toys – just can't use silicone lube with silicone toys.
We feel like the EROS really is the best lube ever!  BEST EVER LUBE BLOG
You can buy the EROS LUBE here on our very tasteful online web store BlissConnection.com
We get such amazing feedback from our customers once they try the Eros lube. It's like no other lube out there and it is so luxurious and luscious – it blows doors on water based lubricant.
You can use the coupon code Eros09 for a free 30 ml bottle with your $50 purchase.