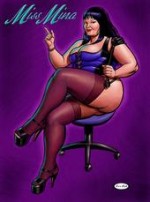 So many songs written about "big ole butts."  Sir Mix A Lot, LL Cool J, MC Hammer, Mystikal, and Queen each have one and Trace Adkins sings that country song " Honky Tonk Bodankadonk."  So, it must stand true that some people prefer big butts, right?  Of course, if you ever shop in the magazine aisle at the local bookstore, you will rarely see a woman with a butt larger then a size 4 on a magazine cover.  So what gives?  Every single person on the planet knows atleast a few lines of the "I like big butts" song that Sir-Mix-A-Lot made so famous in 1992, right? Let's face it – some of us enjoy bigger, fleshier women and big butts!
One of the things I love about my career as a Sex Toy Expert (and as what sometimes feels like being a sex "anthropologist" ) is that I get to hear from all sorts of people about what turns them on, which fetishes they have, and all of the various things that they do when they are home alone and horny. It's all so fascinating. (Blog about "Can you be sexy at any size? Hell Yes!)
About 15 years ago, when I was in my late 20's, I was made aware of groups and clubs that catered to curvy or BBW women. Being a life long CURVY woman and girl, it was very eye opening to me. It was like this entire culture existed that I was not aware of. Up until that time, I thought that men were only attracted to thin women. It sounds so ignorant and naive now, but I did not have an appreciation for how many people actually find fat, phat, zaftig, rubenesque women beautiful and even down right HOT!  As my good friend often says "Do not buy what the media is selling."
So that brings me to my guest Miss Mina BBW. "Mina's" measurements are "42D-44-60. Yes, she has a 60" butt. And, here's the AWESOME SAUCE. Men (and likely some women) pay her to look at her "big ole butt" on her webcam. Mina will be on Better Sex Radio on September 8th at 11:00 a.m. to tell us all about her customers, their kinks, their fetishes and their love and adoration for all of her cuves. Below is a intro and bio from Mina. Consider this as your warning that if you click over to her links, know that they are NOT SAFE FOR WORK!
"I have piercing green eyes and short silky black hair. My curves go on for days and my ass is monstrous. I have been in the adult industry since 2001 and have had my website MissMinaBBW.com since Spring of 2002. I have been featured in Hustler magazine August 2008 issue. Find out why I am fat and famous.
I have also been a Toil Girl for Big Butt Mag. My website has been rated 5 out of 5 stars by Big Butt Magazine. I have been mentioned in a song called Big Girls by Johnny T. & Big Boi of Outkast.
I have had my site reviewed by many adult site reviewers and most agree that www.MissMinaBBW.com is one of the top amateur bbw solo girl sites out there today! It takes a lot of hard work to do what I do. I do everything myself including picture & video production & editing, website maintenance & management, website support, fan email correspondence and alot more behind the scenes things that alot of people don't get to see. I love learning new things, getting to know my fans and enjoy being involved in every aspect of my website. I have so much fun acting out my members fantasies.
For private collectors I'm available for solo custom pictures, solo custom videos, custom DVD's, custom cell phone pics and vids and HD videos. "
Want info on my private one on one cam shows? Go here: http;//www.missminabbw.com/webcam.htm
Like phone sex or phone domination? Call me at NiteFlirt here: http://www.niteflirt.com/MissMinaBBW
"
I am very excited to meet Mina and share her world and her perspective with all of you.
Enjoy our blog, you will love or Bliss Fan Page on Facebook.