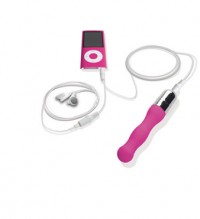 Sex Toys for women and couples that plug into your MP3 Player. How naughty is your play list on your iPod or other MP3 player?
"I knew a girl named Nikki, I guess you could say she was sex fiend. I met her in a hotel lobby masturbating with a magazine."  "Let's Get It On." "Wicked Games." "I'm a Sex Machine." "Sexual Healing." "Paradise City!" Anything by Metallica, Mazzy Star, Nine Inch Nails, INXS, Gypsy Kings or Tom Petty.  I know. My list is kind of crazy.
Check out this fun blog I found when I googled "songs that make you want to fu*k". This woman compiled a list of 12 songs that all look pretty fun and inspired to me!
But, back to the point of this blog. This sex toy plugs into your MP3 player and VIBRATES to whatever you have on your play list. The woman who invented these toys had an idea to combine her iPod and her dildo and came up with a vibrator that vibrates to the music. Isn't that brilliant?  Sex Toys for the iPod!
Body Safe Materials
3 foot cord for ease of use
Velvety smooth finish
Comes in lots of cool, vibrant colors that will match our iPod
We do sell the Naughtibod on our very tasteful online sex toy store and we sell it at our Pleasure Parties, too.
BUY the Naughtibod using our BLOG coupon code for 15% off.
This is a great toy for clitoral orgasms or for penetration. You can use this sex toy alone or during partner sex.
What's on your NAUGHTY Play List? Please comment here!
Blissconnection.com
Blissfully, Chrystal Bougon
Sex Toy Expert, Sex Expert