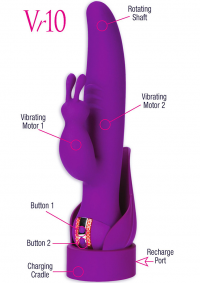 So many luxury sex toys, so little time! I was looking for a snappy headline so I looked up the definition of "luxury" and that is what inspired the headline. Seriously, though, luxury and rechargeable are they way our sex toy industry is moving. (Or maybe has moved to already.)  We've come a LONG ways since the old penis or rocket ship style toys. Now most toys are made with medical grade silicone and materials that are body safe and feel yummy to the touch.
This "rabbit" style toy is a perfect example of this new style. This toy is made by a company called Jopen.com and they make a scrumptious line of luxury rechargable toys. Their toys are on the more expensive side of life, but the good news is that their toys are made with quality and have a 1 year warrant with a 10 year guarantee option. I hope that Jopen is leading the charge in providing awesome service and an online way to register your toy for your warranty. I hope that all of the sex toy companies will move into this direction.
Jopen's toys are all made with PREMIUM silicone and I wish you could all touch your computer screen and feel how velvety yummy their toys feel. And we LOVE the color of all of their toys. they all come in this yummy plum-purple color.
The very unique feature about this toy is the squirmy tip. It's almost like a tongue. Since the toy has two controls which control the tip and the rabbit ears. Jopen Rabbit vr10  You can click on the video of the vr10 Jopen Rabbit to see how the tip moves around like a big, strong tongue. The benefit of a toy that moves around like this is that it feels pretty realistic. Almost human. And, since the silicone material warms up so quickly, it never feels cold. It warms up to your body immediately.
But, my favorite part of this toy with two motors is the rabbit ears. You may remember that I normally cut off the rabbit ears on my other rabbit style toys. They normall do not work for me because they are too hard or too small. Often times they don't work for me and rarely does the vibration ever flow all the way to the ears. But, on this toy, the vibration travles through them all the way to the antennae / ears. I would NEVER cut the ears off of this delish rabbit. they are a bit shorter then most rabbit ears and very soft – yet firm enough to hold the vibration exactly when I need it.
This rechargeable toy has a SUPER cool feature, too. It has a little base the toy sits in. It's plugged into the wall and then you just sort of drop the toy into the base / stand and the toy automatically starts charging. It's very decorative and easy to use. I also love the simple buttons on the base of the toy. Just two buttons. One for the tongue twisting and one for the clit stimulator. They control the independent motors and lots of control and power.  Their simple buttons make it super simple to use alone or in the heat of the moment with a partner.
Oh and the insertable part of this toy is 5.75″ which just so happens to be the size of the average penis! Perfection! We give the Jopen Rabbit vr10 4.5 stars out of 5. The only thing "bad" I can say about this toy is that it is expensive, but you get what you pay for.
Like our style? Then please LIKE us on Facebook .   www.Facebook.com.BlissConnection and if you want to buy yourself this extra luxurious and delicious rabbit, you can shop our online store   www.BlissConnection.com and use the coupon code BLOG for 15% off your purchase and free shipping.
Blissfully, Chrystal Bougon
Good Sex Ambassador and Owner