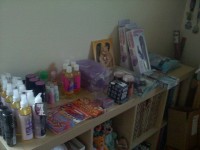 Imagine going to a pleasure party, talk about sex and sex toys for two hours, have some drinks with your girlfriends and then go home empty handed…..     SAD!   At Bliss, we are all about taking your pleasure party purchases home that night.  No one wants to wait for sex toys, right?  And, if you have someone at home who knows that you are at a pleasure party with your girlfriends, having some drinks, talking about sex – and then you go home empty handed. Well, #fail!
When I created Bliss Pleasure Parties in 2003, I knew I wanted my company to be diffferent from our competitors. I had been to so many pleasure parties in the past and was always so disappointed when I had to WAIT for my romance toys. People are usually excited (read horny) and want their stuff NOW. I always joke I can wait three weeks for my candle or three weeks for my tupperware – but I WANT MY SEX TOYS NOW. (Browse our SEX TOYS Online.)
So, when you host a Pleasure Party here in the San Jose area, we are going to set up a full store in your home. We will takeover the master bedroom and set up our full store in that room so you and your friends can shop privately after ou rvery sassy and educational Bliss Party presentation. NO WAITING. Everyone goes home with their goodies that night. Sounds, fun, right? So book your Bliss Pleasure Party today. Call us, text us or email us at :  408-826-9087  or go online to http://www.BlissPartiesInc.com  to book your party online. You can also email us at blissconnection @ gmail.com.
We feature all kinds of fabulous products at our home sex toy parties. We always present the Kama Sutra products, Sadie Allison's book, the Original Rabbit Pearl by Vibratex, and the Eros Silicone Lube. We also offer a Free Silver Bullet to all guests who spend $80 or more at our home pleasure parties. We like all of our customers to go home with atleast one vibrating goody!  Want to learn 13 Ways to Use the Silver Bullet?  http://www.FreeSilverBullet.com