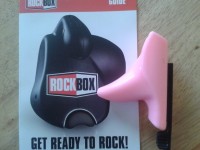 You have to love anything packaged in a box that says "Orgasm Machine" on the packaging. Atleast, I do! I love anything that is new and different and not just another version of the rabbit. (And, believe me, I love a great rabbit.)  But, it is very fun for me and for my regular customers when we can show them something new and innovative in the sex toy world.
This new toy is called the Rock Box and it truly is a power tool. (If you have ever been to one of our Bliss Pleasure Parties, you know that is what we call the sex toy portion of our pleasure party presentations.)
This toy plus into the wall, baby! Yes. MORE POWER! 5,000 RPM's to be exacty. And, the beautiful thing about this toy is that someone had the bright idea of adding a SUPER LONG power cord to the toy so you do not have to ONLY play near the electrical outlet. You can take this toy to every corner of your bedroom! ( I have heard stories about women humping the wall because their electric toys will not reach their bed!)
The tongue is just perfection, too. The tongue is designed for clitoral stimulation, labia stimulation, anal stimulation and it's even long enough so you can use it for vaginal or anal penetration. The tongue material is silicone and best with used with water based lubricant if you want to use one with it.
The toy is VERY easy to use and figure it out. It's got a nice weight to it and everything just feels and sounds solid when you pull it out of the box. None of the parts feel cheap. It feels like it will be in my personal collection for years and years. It sort of has that quality feeling like the Hitachi Magic Wand has.
Here is the official video from the manufacturer: http://youtu.be/HQktN3chSX4
The tongue attachment is sort of like having a "tongue" on demand just laying around dying to be plugged into the wall. I definitely preferred the speed around 3 or 4. Not quite sure I am ready for speed 10, but I can see how the higher speeds might feel really good on your breasts, nipples, outer labia, maybe your inner thighs. While it might not be the prettiest toy around, I can see how it could be a super fun toy for adventurous couples who love to experiment with new sex toys and toys that look a little more industrial.
This toy does live up to it's marketing "orgasm machine." It's pretty much a guaranteed orgasm and you may even be able to train yourself to have multiple orgasms with this toy if that is something you have not experienced yet.
Very easy to clean, too, btw. I just used the unscented baby wipes I buy at the grocery store.
I am giving this toy 4 and a half stars out of 5. I would give it 5, but it is not the prettiest toy ever made. That is the only complaint I have!
Do you like our review of this toy? Have you tried it yet? Tell us what you think please. And if you "like" our style, then we'd love it if you "liked" us on facebook. www.Facebook.com/Blissconnection
Blissfully, Chrystal Bougon Tel 408/712 3809