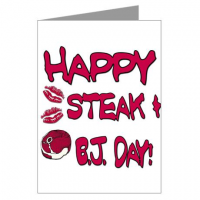 I have been invited to weigh in on the "Steak & A BJ Day" on an internet radio show called SquatCast.com this Wednesday at 6pm Pacific. And, this Wednesday is "Steak & A BJ Day" in case you did not know. (Remember me warning all of you Valentine's Day haters to be nice to SOMEONE on Valentine's Day since EXACTLY one month later is Steak & A BJ Day?)
To tune in or call in with your B.J. questions, you can listen live this Wednesday, March 14th at 6 pm Pacific on www.ToadHopNetwork.com – look for the SquatCast show and click through and tune in. I am not sure, but I think somehow they found out about our Bliss home parties where we teach how to give the gourmet b.j. classes / techniques.  (We only offer them in the San Jose / San Francisco Bay Area currently, but if you want more information about them, you can read more about out home blow job classes here.)  Or maybe they heard about our "Gourmet Blow Job ebook" that we sell for $4.99. Not sure, but we will find out this Wednesday.
We can even take calls live on Wednesday and I am pretty sure we will mostly be talking about blow jobs – not steaks. So be sure to call in to the show live and ask your questions. The toll free number is 888-50-4374. Or send in your questions via Twitter to @squatcast. You can follow us  @blissconnection , too!
Have you heard of this show before? It's called SquattersTheSeries.com. Check this out from their website:
"Squatters", is an online comedy series about two best friends who make a bet to see who can NOT pay rent the longest. Our brotastic odd couple each take a different approach to their housing dillema. The loveable geek, Alex (Erik Scott Smith) starts camping out in his office cubicle. Meanwhile, now-nomadic Hank (Brendan Bradley) relies on his frat boy charm to seduce women and "take them back to their place" every night!  With only a twitter account "Squatters Season 1″ has found almost a million views across every major video sharing site and has won a dozen awards including Indie Intertube and Stay Tuned TV's BEST COMEDY Awards. We hope you'll enjoy the hit online comedy that is still looking for a home!"
I am sure this is going to be a super fun interview and we will be giving away some Fresh Balls and Comfortably Numb goodies to some of their listeners, so be sure to tune in or call in. We sell those and the blowjob vouchers on our very tasteful online sex toy store www.BlissConnection.com
I am going to create a coupon code SQUAT for a 15% discount on our online sex toy store BlissConnection.com !